Nov 26, 2010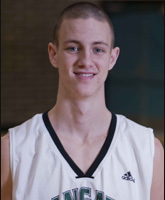 The men's basketball team won both their games on the road this past weekend against the Quest University Kermodes. Leading the way for the Falcons was first year guard Elliot Mason. His efforts were not only key to the road wins, they allowed him to win the BCCAA Athlete of the Week. He is profiled on BCCAA's website:
Elliot Mason is a 6'5" rookie guard from J.N. Burnett in Richmond. His ability to play a number of positions has allowed him to step into a starting role for the Falcons this year. Mason came into week 3 as the league's second leading rebounder at 9 rebounds a game. He was instrumental in the Falcons winning both road games in Squamish this past weekend against the Quest Kermodes.
Friday night's 82-68 victory over Quest was a team effort. The traveling Falcons had the lead at the end of the first quarter and never relinquished it. Mason spearheaded his team's effort with his 27 points and 6 rebounds while playing 35 minutes and shooting 71% from the field.
Saturday night's game started in a similar fashion to Friday's game with the Falcons jumping out to an early lead and establishing a 13 point lead by half. Mason was 8 for 8 from the field and had 20 of the Falcons 41 first half points. Despite injuring himself and having to leave the game early in the fourth quarter, Mason finished the game with 24 points and 5 rebounds. He was 10 for 11 from the field and 2 for 3 from the free throw line as the Falcons defeated the Kermodes, 80-71.
Next up for the Falcons is a home stand against the VIU Mariners at Langara College, November 26th, and 27th.
Learn more.