Jan 22, 2010
Studio 58/Langara College presents the Risky Nights production of Isolde N. Barron's What a Drag!
A rumpus-filled investigation into the art of the fabulous
Directed by Cameron Mackenzie
October 12-16 - 8:15pm 
October 17 - 3:15pm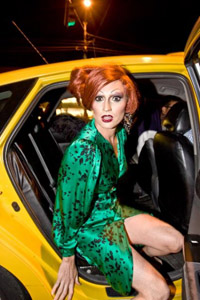 Vancouver, BC - Studio 58, the nationally renowned professional theatre training program at Langara College, presents the Risky Nights production of What a Drag!, written by the Studio 58 ensemble and directed by Cameron Mackenzie. This new production is on stage from Tuesday, October 12 to Saturday, October 16 at 8:15 PM, with a matinee at 3:15pm on Sunday, October 17th in Room SU32 in the Student Union Building, Langara College.
Drag monarchs are our world's clowns. They grin their way through genders. They belt their sexuality. They clomp and stomp and strut their way over the bridge between society and tomfoolery.
Now in its 11th season, the Risky Nights Series is designed as a bridge between classroom work and main stage productions. At the conclusion of their second year of training, students have an invaluable opportunity to create every aspect of an original theatre piece from start to finish with a professional director, and perform it for an intimate audience.
Cameron is a multifaceted theatre artist. Directing credits include: Tiny Replicas (Thirty Below/ Neanderthal Arts Festival), Nelly Boy (Zee Zee Theatre), Jocasta (assistant, Studio 58), My Funny Valentine (Thirty Below/ SummerWorks), Whale Riding Weather (Zee Zee Theatre). Cameron co-created and performed in an undershirt at the Toronto Fringe which was awarded Best Ensemble by NOW Magazine as well as co-created a piece for BC Buds to keep his alter ego Isolde N. Barron busy in 20 Minute Drag School. Isolde is Vancouver's current reigning Entertainer of the Year and hosts her own weekly show, Apocalypstick, Sunday nights at The Cobalt. Cameron is a graduate of the theatre program at the University of the Fraser Valley and Studio 58, and has furthered his training with Pochinko clown master John Turner of "Mump and Smoot". He is the founder and artistic director of Zee Zee Theatre. Upcoming: He will direct My Funny Valentine for Zee Zee Theatre, opening in April.
Written by the Studio 58 ensemble
Directed by Cameron Mackenzie
Costume Consultant Marina Szijarto
Make-up Consultant Ghassan Shanti
Dramaturge Dave Deveau
Langara College
Room SU32
Student Union Building
100 W. 49th Avenue
Vancouver, BC, V5Y 2Z6
Admission by donation
Space is very limited/Reservations are recommended
For Info/Reservations 604.323.5227
Media Contact: 
Sherri Sadler (604) 323-5652
ssadler@langara.bc.ca
Learn more.
http://www.langara.bc.ca/studio58/season.html