Sep 23, 2010
Antony Holland in A Night with the Stars
A benefit in support of Studio 58 Student Scholarships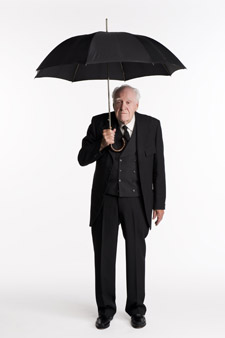 Vancouver, BC - What do Kate Hepburn, Brad Pitt and Robert DeNiro have in common? They all worked with Studio 58 founder Antony Holland and he has the stories to prove it! Join Antony as he plays selected film clips from his phenomenal career and regales us with stories not even Entertainment Tonight knows! You may never think of Hollywood in quite the same way again!
All proceeds from this fabulous evening of delectable dishing will be donated to the Antony Holland Scholarship and the Lloyd Nicholson Memorial Scholarship, two of the many ways you can support the incredible students of Studio 58. For more information on these scholarships, please visit www.studio58.ca and click on 'Ways to Give'.
Antony Holland is one of Canada's most acclaimed actors. He is the recipient of three Jessie Richardson Theatre Awards (two for Best Performance as a Lead Actor and Lifetime Achievement), the Sam Payne Award for "Humanity, Integrity and Encouragement of New Talent," the Union of B.C Performers Award of Excellence and he is an inductee in the B.C Entertainment Hall of Fame. Antony has appeared in countless movies and television series, among them McCabe and Mrs. Miller, Mrs. Delafield Wants to Marry (with Katharine Hepburn), and Stephen King's Kingdom Hospital. Antony lives on Gabriola Island, where he founded and runs the Gabriola Theatre Centre.
Date: Monday, October 4, 2010
Time: 7:00 pm 
Price: $20.00
Location: Studio 58 is located in the basement of the Main Building, Langara College 
100 West 49th Avenue
Vancouver, BC, V5Y 2Z6
Order by phone: 604.684.2787 (Additional $3.50 per phone order)
Order on-line: www.ticketstonight.ca
Media Contact: 
Sherri Sadler (604) 323-5652
ssadler@langara.bc.ca
Learn more.
www.langara.ca/studio58