Jul 30, 2010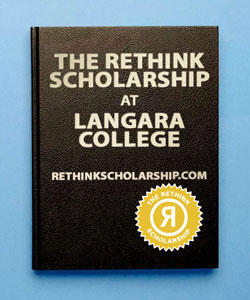 Genta Ishimura was awarded an $18,000 two-year scholarship to Langara College's Communication and Ideation (CID) Program from the second annual Rethink Scholarship contest. The scholarship includes a three-month internship at Rethink Communications, an award-winning advertising and design agency in Vancouver and Toronto.
Contestants were asked to submit a black sketchbook exemplifying their ability to develop creative ideas. Rethink based their selection criterion on clarity, relevance, freshness, quality, execution, and above all else, great thinking, creativity, and passion in the submissions.
Ishimura's winning submission was ironically a guide to winning the Rethink Scholarship. "I am thrilled about winning the Rethink Scholarship," said Ishimura. "Langara College's CID Program will take my design skills to the next level. I'm excited to soak up all the knowledge and be challenged in new ways."
"Genta is a truly innovative and creative thinker and we are eager to see him apply his experiences in environmental design to the communication design realm," said Dr. Shelley Gruendler, head of the CID program. "He will be an excellent addition to the Communication and Ideation Design program."
Langara College's CID program, offered through Langara College Continuing Studies, is structured to help students expand their knowledge of ideation, the process of initiating, developing, and refining ideas within the realm of communication design. Strong ideation skills are valued by such creative businesses as Rethink as it results in innovative solutions for their clients.
"We are a program that aims to be the bridge between education and the advertising and communication design profession," says Gruendler. "We focus on helping people learn to how to think and then to apply that thinking to complex communication problem-solving in today's society."
Langara College, located in beautiful Vancouver, BC, Canada, provides University, Career, and Continuing Studies programs and courses to more than 20,000 students annually. The College's expansive academic breadth and depth allows students to choose their own educational path.
Learn more.
For more information on the program, please visit Continuing Studies Ideation and Creative Leadership program. Further details on the contest can be found at Rethink Canada.
Media Contact:
Ian Humphreys, Ph.D. 
Director, Communications & Marketing Services 
Langara College 
604-323-5671 
news@langara.bc.ca