Jul 13, 2010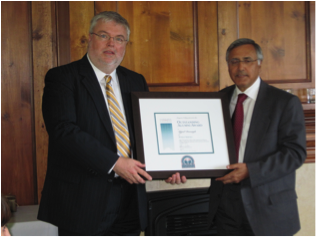 Vancouver, BC - The Honourable Ujjal Dosanjh (P.C., Q.C., B.A., LL.B) was awarded the 2010 Langara College Outstanding Alumni Award for Public Service. This annual award celebrates the contribution of exceptional individuals who have enhanced the reputation of the College through their inspirational career, public service, community service, athletic, arts and culture, or academic achievements. The award was presented at Langara's Annual Awards Luncheon held on June 23, 2010.
Dosanjh, who began his post-secondary education in the Arts and Science program at Langara College, has served the people of British Columbia for over 35 years. He is a lawyer and a vocal advocate for immigrant and workers' rights. Over the years, he has worked and volunteered with organizations such as the Farm Workers' Legal Information Service (later known as the Canadian Farm Workers' Union), BC Civil Liberties Association, Vancouver Multicultural Society, Labour Advocacy Research Association, MOSAIC Immigrant Services Centre, and South Vancouver Neighbourhood House.
In 1991, Dosanjh was elected the Member of the Legislative Assembly for the riding of Vancouver-Kensington. Since then, he has undertaken roles of increasing responsibility. From 1995-2000, he served as BC's Attorney General. In 2000, Dosanjh became the 33rd Premier of British Columbia, the first Indo-Canadian to serve as a provincial leader in Canada.

Dosanjh entered national politics in 2004 and currently serves as the Member of Parliament for Vancouver South. As a member of the Official Opposition, he has served as the Opposition Critic for the National Defence, Public Safety, and Foreign Affairs. He has also sat on the Standing Committee on National Defence, Committee on Public Safety and National Security, Committee on Foreign Affairs and International Development, and the Committee on the Canadian Mission in Afghanistan.
"We are very honoured to have Ujjal Dosanjh as an alumnus," said Dr. David Ross, Langara College President. "He is an inspiration to all our students. He exemplifies what you can achieve through hard work, a sense of purpose, public service, and commitment to social justice."
Langara College, located in beautiful Vancouver, BC, Canada, provides University, Career, and Continuing Studies programs and courses to more than 20,000 students annually. The College's expansive academic breadth and depth allows students to choose their own educational path. The College offers three bachelor's degrees as well as a comprehensive variety of diplomas, certificates, and citations.
Media contact:
Joe Donnelly
Manager, Communications & Marketing Services
Langara College
604.323.5131
news@langara.bc.ca