Mar 31, 2010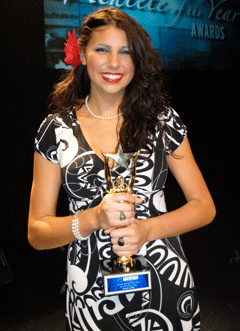 Loren Lidin was presented with the Sport BC College Athlete of the Year award at the 44th Annual Sport BC Athlete of the Year Awards on Wednesday, March 31, at the River Rock Show Theatre in Richmond, BC.
This BC-wide honour was proudly accepted by Lidin, the only student athlete selected from all sports played by both genders within the BC College's Athletic Association. Lidin, a star goal-keeper on Langara College's Women's Soccer Team, was astounded by this recognition as it took her by surprise.
"This is a huge honour – goalies rarely get recognized because we don't stand out that much," said Lidin. "The team defenders and the coaches got me to where I am today. I can't thank head coach, Ryan Birt, enough, as he was the one who recruited me and helped me become a much stronger keeper in my first year. His coaching is one of the main reasons why our teams have done so well over the last few years."
"Her reaction when they announced her name was truly priceless. She was clearly humbled and surprised to hear her name called," said Langara's director of athletics and intramurals, Clayton Munro. "The other two candidates were outstanding student-athletes in their own right, and for Loren to be the one college athlete across BC to receive this prestigious honour says a lot about her and the hard work and sacrifice that she has put into being the best goal-keeper that she can possibly be."   
Lidin's outstanding soccer season on the Langara Women's Soccer Team began in September, when she was named BCCAA Athlete of the Week, followed by BCCAA Athlete of the Month. In October, she won BCCAA Provincial Player of the Year, and in November she became the third CCAA National Player of the Year in the history of the Langara Women's Soccer program. She leads the league with a goals-against-average of 0.59, along with four shutouts, and assisted her team to an undefeated regular season.
The Langara Women's Soccer Team has been consistently strong for a number of years, winning three of the last five provincial and national championships. This year, they won their third league title in the past four years.
Lidin, the 5th recipient of this award over the past 12 years of Langara College's athletic history, will be enrolling in Langara College's BBA Marketing Management program this fall.
A leader and an advocate for amateur sport across the province, Sport BC is a driving force in bringing healthy living and sport to the forefront for British Columbians. Each year, Sport BC celebrates the best of BC's amateur sport athletes with an award ceremony. Each finalist is nominated by their Provincial Sport Organization, high school, or university and voted on by a selection committee of BC sportswriters, broadcasters, athletes and amateur sport experts.
Learn more.
Langara Athletics and Intramurals