Mar 26, 2010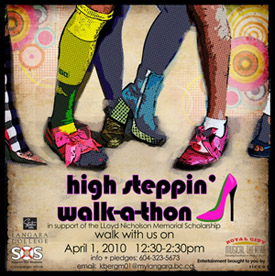 Langara College Advancement and Studio 58 host the first annual High Steppin' Walk-a-thon on April 1, 2010 from 12:30-2:30pm. Taking place at Langara College, students, faculty, staff, and the community are invited to participate in the parade down 49th Avenue.
Sponsored by Langara College Advancement, the High Steppin' Walk-a-thon is in support of the Lloyd Nicholson Memorial Endowed Scholarship. Lloyd Nicholson was a Studio 58 instructor for over 25 years and served as Musical Director for many productions, including Bye Bye Birdie, The Boy Friend, Guys and Dolls, and Hair.
"Lloyd's contributions to the local and national theatre community have inspired friends and colleagues to get steppin' to raise money for the Lloyd Nicholson Memorial Scholarship. We encourage everyone to slip on their flashiest shoes and race to the start line!" says Sandra Biggerstaff, Manager of College Advancement.
The event will be a celebration of life and music as participants walk down 49th Avenue dressed up in crazy costumes and footwear such as high heels, cleats and clogs. Awards will be given to the most outrageously costumed participants by a distinguished panel of judges from the Vancouver theatre community including Kim Cathers ("Project Runway" contestant, Season 2), Kathryn Shaw (Studio 58 artistic director), and Sean Horlor (host of the OutTV show "Don't quit your Gay Job"). Music will be provided by local DJ talent r i c c o.
Donations and pledges for the scholarship are welcome. Donors may also submit in-kind sponsorships as event prizes. College Advancement will match all monetary donations made at the event for the scholarship. To make a donation, please contact the College Advancement Office at 604.323.5673.
Learn more.
Lloyd Nicholson Memorial Endowed Scholarship
Studio 58
Langara College Alumni