Overview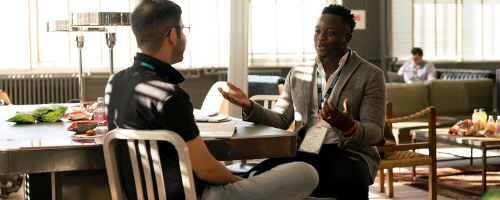 Fall 2023 cohort is 100% in class learning (face to face on campus). 
Personality Dimensions Level 1 Training (face to face) is scheduled for:
November 1 ,2, & 3, 2023 from 9 am to 5 pm, accepting registrations.   
Do you want to work with people and help them with their on-going learning, employment and career goals? Our Career Development Professional Certificate Program will give you the skills and knowledge to pursue a range of employment opportunities and to teach others how to manage their career in an ever-changing labour market. The Canadian Standards and Guidelines for Career Development Practitioners defines Career Development as "the lifelong process of managing learning, work, leisure and transitions in order to move towards a personally determined and evolving preferred future".
The full-time in-class intensive program is offered 9:00 am to 3:00 pm, Monday to Friday. The focus is on Employment Services with nine courses which will teach you about career development theories, career planning, job search and development, social media, and grant and proposal writing skills. Learn how to work with individuals and groups, develop skills to use career assessment tools, and learn about labour market trends and how to help people manage career transition. Program content is based on the Canadian Standards and Guidelines for Career Development Practitioners. 
Students will also complete a two week workplace practicum. We place/find our students their host practicum placement once all the required courses are met. Langara College will determine and have the final say in where the students are placed. 
Refund: Send a written refund request to yvirji@langara.ca prior to at least 14 days before the program/course start date. All refunds are subject to an administration fee of 20% of the course/event fee of a  $35 per course. If you submit a refund request less than 14 days before the course start date, you will not receive a refund. No refunds are granted once the program has started.  
The ideal candidate for this program is someone who:
Has previous work or volunteer experience (1 year) in a related field such as career/employment counselling, human resources, teaching, marketing, management, customer service and/or life skills coaching
Has a college education, is a graduate of post-secondary education Canadian or foreign or has substantial practical experience
Has excellent listening and communication skills
Is friendly and open to learning necessary concepts regarding Career Development practices, case management, and general management
Would like to help people 
Is interested in self-growth and personal development
Has good command of English; both spoken and written
Is willing to attend a full time program in order to establish themselves in higher level employment skills and is open to job possibilities
Students may take individual courses for personal interest. However, in order to receive the certificate, you must be admitted to the program. 
Sponsored/funded applicants will need to submit an Application form- $40 non-refundable in order for us to answer their questions. We may not be able to answer ALL questions.