Vancouver, BC – More than 270 photography fans arrived at Langara on Tuesday night to listen to world-renowned photographer Edward Burtynsky discuss his work as part of the College's Photography Masters Series and the first annual Capture Photography Festival.

Burtynsky, who is regarded as one of the world's greatest living image-makers, shared images and discussed his latest project, Water, with the crowd. The Toronto-based photographer is known for his expansive and poignant large-format images, and his work is housed in more than 50 museums and galleries internationally. This latest collection includes images from around the world that focus on humanity's precarious relationship with its most essential and fragile resource.
His visit to Vancouver coincides with a screening of his new documentary Watermark, which is being shown as part of the Vancouver International Film Festival. The film was made with Jennifer Baichwal, who Burtynsky also collaborated with on the award-winning film Manufactured Landscapes.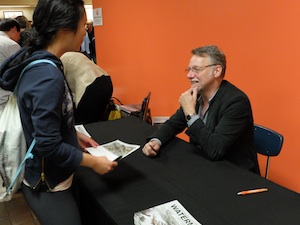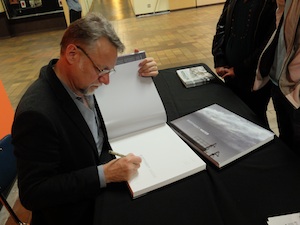 Edward Burtynsky chats with fans and signs copies of 'Water' at Langara on October 8 as part of the Photography Masters Series. 
"It was such a privilege to have Ed share his work here at the College," said Jim Balderston, who coordinates the Masters Series for Langara. "He's a truly incredible image-maker whose impact on photography has been felt not just here in Canada, but around the world. Water is an important and powerful collection of work that I'm sure will resonate with all of our guests for a long time."
Read more about this story on Storify.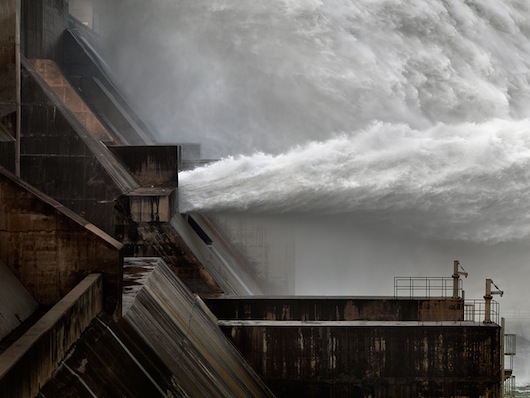 An image from "Water": Xiaolangdi Dam #1, Yellow River, Henan Province, China, 2011. © Edward Burtynsky 
Learn more:
Annie Mullins
Communications Officer
Langara Colleg
e604.323.5058
amullins@langara.bc.ca