Mar 21, 2023
Vancouver, BC – The snəw̓eyəɬ leləm̓ Langara College Makerspace, Langara Applied Research Club, and Neil Squire's Makers Making Change (MMC) program collaborated to provide assistive devices for Canadians with physical disabilities.   
Using tools available in the Langara Makerspace, including laser cutters and 3D printers, volunteers from the community produced high-quality interactive switches for local organizations and rehabilitation hospitals, including the Sunny Hill Health Centre at BC Children's Hospital. 
"Partnering with Langara College's Makerspace in this way was a natural fit," said Chad Leaman, Development Director, Neil Squire Society. "We're thankful for their generosity in providing the space and tools with which our volunteers can learn new skills while benefiting those who need this equipment most." 
The Sunny Hill Health Centre, located at BC Children's Hospital, provides specialized developmental assessments and rehabilitation services for children, youth and their families. 
Makers Making Change is a program of Neil Squire, a Canadian non-profit that empowers people with disabilities through technology. The program connects people with disabilities to volunteer makers who can build assistive devices using open-source instructions and build files provided by the society.   
The two recent 'make-a-thons' were made possible through a $5,000 grant from the Neil Squire Clubs That Care program which supports Canadian university or college groups to build affordable assistive technology. The program supports groups like engineering clubs, community service organizations, academic societies, and sports clubs to deliver affordable assistive devices to the community.   
About Neil Squire 
Neil Squire is a non-profit that has been revolutionizing the lives of Canadians with disabilities since 1984 through assistive technology. Makers Making Change is one of the many programs offered. Our organization was established when 21-year-old Neil Squire became tetraplegic after a car crash. Seeing he was unable to speak or move his arms and legs, Neil's family and a group of professionals in created a ground-breaking device allowing him to communicate by using sip and puff to type Morse code. The technology was rudimentary at the time but it reconnected Neil to the world, allowing him to speak with family and friends once again. After Neil passed, the Neil Squire Society was formed in his name to help improve the lives of people with disabilities. Our work is focused on four distinct areas: Innovation, Digital Literacy, Employment, and Assistive Technology. 
About snəw̓eyəɬ leləm̓ Langara College   
Located in beautiful Vancouver, B.C., Canada, snəw̓eyəɬ leləm̓ Langara College provides university-level education to more than 19,000 students annually. With more than 1,700 courses and 130 programs, Langara's expansive academic breadth and depth allows students of all ages, backgrounds, and life stages to choose their own educational path. Langara is also known as snəw̓eyəɬ leləm, 'house of teachings', a name given to it by Musqueam, on whose unceded traditional territory the College is located.   
Learn more.     
Mark Dawson     
Manager, Public Affairs     
Langara College     
mdawson@langara.ca 
Chad Leaman 
Director of Innovation 
Neil Squire 
chadl@neilsquire.ca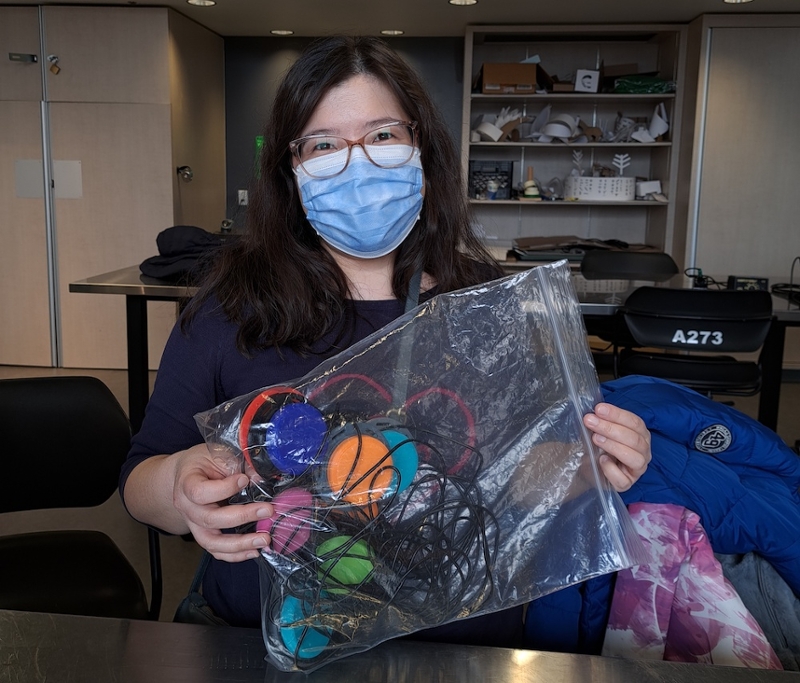 PHOTO:

Angela

, an

occupational therapist at SHHC, holds switches made by volunteers at the

Langara

College Makerspace on

Friday, March 10,

2023

at

Langara

College.