Mar 16, 2023
Bangkok, Thailand –snəw̓eyəɬ leləm̓ Langara College and Panyapiwat Institute of Management are pleased to sign a Memorandum of Understanding (MOU) that will see both institutions continue providing cultural and education opportunities for students. 
The MOU facilitates student mobility and two-way exchanges, development of student abroad opportunities, exploration of the delivery of pathway programs, cultural programs, and other projects and opportunities of mutual interest. 
"Langara's relationship with PIM over the years has provided a high-quality opportunity for our students to gain valuable insight and cultural experiences while pursuing their education," said Dr. Paula Burns. "Formalizing our relationship with PIM offers exciting new prospects for our students." 
In May 2023, 22 students and two Langara instructors will take part in a field study, hosted by PIM, following visits to South Korea and Vietnam. 
Since being introduced in 2018, Langara and PIM have collaborated in several visits to reinforce and build their relationship. In 2019, 22 students visited PIM on a field study led by instructors Kenneth Wong (Business Studies) and Avram Agov (Asian Studies), part of a 3-week tour that included South Korea as well. The students met with PIM students across multiple programs, attended lectures given by senior PIM faculty, and visited cultural and business institutions. 
About Panyapiwat Institute of Management (PIM) 
PIM is Thailand's first and largest Corporate University established in 2007 and owned by CP ALL Public Company Limited. CP-ALL is one of the business lines of the Charoen Pokphand Group (CP), Thailand's largest conglomerate. CP consists of three core businesses that operate in the agribusiness and food, retail and distribution, including all 7-11 stores across Thailand (which CP-ALL operates), and telecommunications industries with investment in over 20 countries. Founded in 1921, the CP Group currently employs, through its subsidiaries, over 300,000 people with offices and factories located worldwide. Currently, PIM provides quality education in Bachelor's, Master's and Doctorate level across 11 faculties and 39 subject areas. 
About snəw̓eyəɬ leləm̓ Langara College  
Located in beautiful Vancouver, B.C., Canada, snəw̓eyəɬ leləm̓ Langara College provides university-level education to more than 19,000 students annually. With more than 1,700 courses and 130 programs, Langara's expansive academic breadth and depth allows students of all ages, backgrounds, and life stages to choose their own educational path. Langara is also known as snəw̓eyəɬ leləm, 'house of teachings', a name given to it by Musqueam, on whose unceded traditional territory the College is located.  
Learn more.    
Mark Dawson    
Manager, Public Affairs    
Langara College    
mdawson@langara.ca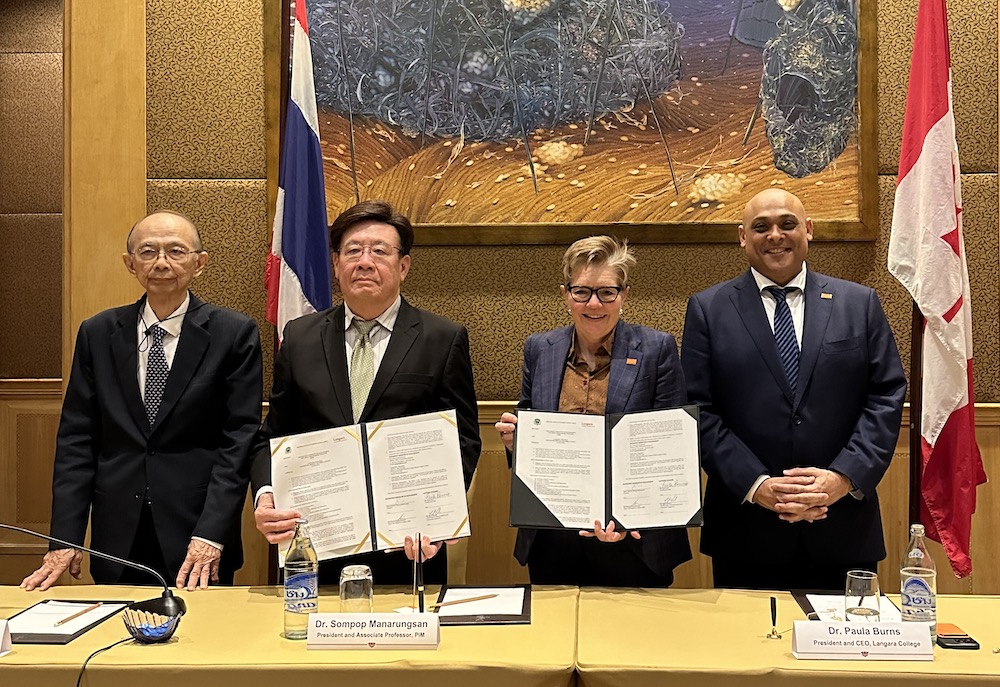 L-R:

Mr. 

Phornvit

 

Phacharintanakul

, Senior Vice President for Academic Affairs, PIM;

Assoc. Prof. Dr

. 

Sompop

 

Manarungsan

, President, PIM; Dr. Paula Burns, President,

Langara

College;

Mr.

Yusuf

Varachia

, Vice President, External

Relations

and Community Engagement,

Langara

College

.