Aug 1, 2019
Vancouver, BC – Ruth Bancroft, Head Teacher of Langara's Child Development Centre, retired Wednesday, July 31st after 41 years at Langara College. It makes her recent recognition with a Prime Minister's Award for Excellence in Early Childhood Education especially fitting.
At a brief ceremony on campus last week, Ruth received her Certificate of Achievement from Hon. Harjit Sajjan, Minister of Defence and Member of Parliament for Vancouver South. The Minister also took the opportunity to present Ruth with the Minister of Defence's Personal Coin.
Since 2002, almost 300 educators have been honoured for their leadership, exemplary early childhood education practices, and their commitment to help build the foundation children need to make the best possible start in life. Recipients are selected via a rigorous process that involves volunteers from major education stakeholders across Canada, including post-secondary institutions, business organizations, early childhood education associations, and parent organizations.
In her 41 years at Langara, Ruth has helped lead and grow the daycare into a welcome space for the children of students, employees, and community members. She has assembled and mentored a dedicated team of caregivers. Ruth and her staff have partnered with Langara's Early Childhood Education (ECE) program to give students valuable practical experiences. She has been an advocate and champion of affordable and inclusive childcare in British Columbia, leading to the Centre's inclusion as a $10-per-day childcare prototype site. In 2013, Ruth received a Langara Service Excellence Award.
The Langara Child Development Centre is a full-time inclusive day-care centre that serves 62 children ages 18 months to five years in three separate programs—one toddler and two 3-5 years programs. The Centre includes some spaces designated for children with special needs. Priority in placement is given to students and employees of Langara College.
About Langara College
Located in beautiful Vancouver, B.C., Canada, Langara College provides University, Career, and Continuing Studies education to more than 21,000 students annually. With more than 1,700 courses and 130 programs, Langara's expansive academic breadth and depth allows students of all ages, backgrounds, and life stages to choose their own educational path. Langara is also known as 'house of teachings', a name given to it by the Musqueam people on whose unceded traditional territory the College is located. Langara is celebrating its 49th year on West 49th Avenue with Beyond 49, an integrated celebration, alumni engagement, and fundraising campaign to reconnect with alumni, and raise funds for student support and important College initiatives.
Learn more.

Mark Dawson
Manager, Public Affairs 


604.323.5702
mdawson@langara.ca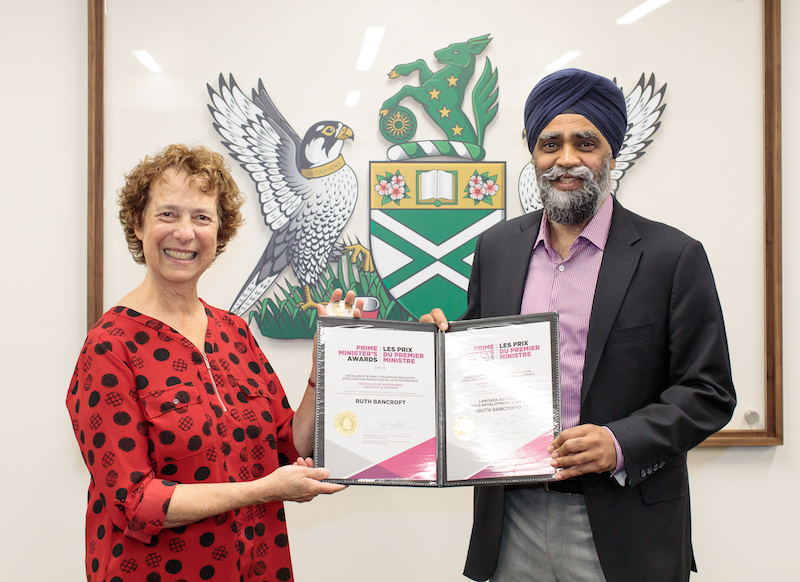 PHOTO: Ruth Bancroft receives the Prime Minister's Award for Excellence in Early Childhood Education from Hon. Harjit Sajjan, MP for Vancouver South.