Jan 28, 2019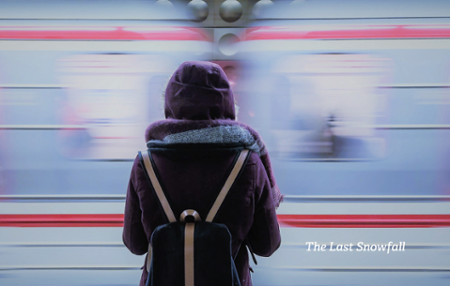 Vancouver, BC – Langara College's English Department is pleased to announce the winners of its sixth annual Postcard Story Contest.
Langara student writer Mary Zhu takes the $100 first place prize for her entry "Last Snowfall".
Elizabeth Tirkalas received second place honours and a $50 prize with her story titled, "The Booth".
Both winners will be featured in future editions of various Langara-produced publications, including W49, Langara's award-winning magazine of student writing.
Honourable mention also goes to Rachael Barnett for her submission, "Delilah".
"Participating in the contest helped me to learn how to write concisely within a short word limit while still trying to express the emotions, the characters, and the situation in the photo," says first place winner, Mary Zhu. "Writing the postcard story helped me realize what is vital in pushing a story forward. The experience definitely resulted in a better understanding on how to craft a simple but (hopefully) provocative story!"
"I wager that most Langara students have an idea for a story that they want to tell, and this contest provides some inspiration for them to do so," says Langara English instructor and contest organizer, Caroline Harvey. "The risks student take with different styles, themes, and moods is always fascinating: these are not cookie-cutter stories with predictable plots and the usual suspects!"
Langara's annual Postcard Story Contest accepts submissions from any students currently enrolled at the College. Entrants are invited to write a concise yet evocative 250-word story that may be fiction or non-fiction, and must be accompanied by an illustration or photo that complements the original work.
A panel of five judges from Langara's English Department determines the winning entries. This year's judges were Jill Goldberg, Sean Gray, Estella Kuchta, Simon Rolston and Guy Wilkinson.
This year's winning images and stories may be viewed on Langara's English contest page. Please note that images and content may not be reproduced without the permission of the winners and contest organizer.
The 2019 Postcard Story Contest will open in October. Interested students are encouraged to monitor the contest webpage or contact Caroline Harvey at charvey@langara.ca.
About Langara
Located in beautiful Vancouver, B.C., Canada, Langara College provides University, Career, and Continuing Studies education to more than 21,000 students annually. With more than 1,700 courses and 130 programs, Langara's expansive academic breadth and depth allows students of all ages, backgrounds, and life stages to choose their own educational path. Langara is also known as house of teachings, a name given to it by the Musqueam people on whose unceded traditional territory the College is located. Langara is celebrating its 49th year on West 49th Avenue with Beyond 49, an integrated celebration, alumni engagement, and fundraising campaign to reconnect with alumni, and raise funds for student support and important College initiatives.
Learn more.
Jessica Wong
Communications Officer 
Communications and Marketing 
Langara College 
604.323.5336
jessicawong@langara.ca