Jul 25, 2018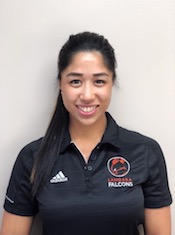 Vancouver, BC – The Langara Falcons are excited to welcome professional golfer Christine Wong as the newest coach of the College's golf team.
Wong is a four-time NCAA Collegiate Tournament Champion who represented San Diego State University, as well as a former member of the Canadian women's amateur national team. Originally from Richmond, BC, her career has taken her to high-profile events including the US Women's Open and the Canadian Women's Open.
"I'm really looking forward to working with this team and with Langara's staff," she said. "There's a lot of promising student-athletes in this cohort, and I'm very excited about the opportunity to work with them."
Langara's golf program got its start during the 2015-2016 PACWEST season, partnering with the nearby Quilchena Golf and Country Club to serve as the team's training facility. The team roster has included standouts like CCAA All-Canadian Jacob Vanderpas.
"We are thrilled to have Christine joining our team," said Langara's Director of Athletics and Intramurals Jake McCallum. "Her passion and dedication to the sport of golf will be a welcome addition to the program, and her background as an elite student-athlete will prove invaluable as she heads up the golf program this fall."
About Langara College
Located in beautiful Vancouver, B.C., Canada, Langara College provides University, Career, and Continuing Studies education to more than 21,000 students annually. With more than 1,700 courses and 130 programs, Langara's expansive academic breadth and depth allows students of all ages, backgrounds, and life stages to choose their own educational path. Langara is also known as house of teachings, a name given to it by the Musqueam people on whose unceded traditional territory the College is located.
Learn more.
Annie Mullins
Communications Officer
604.323.5548
amullins@langara.ca