May 9, 2018
Vancouver, BC – Langara College has been awarded the right to host the 2019 Canadian Collegiate Athletic Association (CCAA) Men's Basketball National Championship.
The Pacific Western Athletic Association (PACWEST) institution will host the event in Vancouver, BC, from March 13-16, 2019. All games will be held at the Langley Event Centre (LEC).
"Langara is a perennial national contender in Men's Basketball and head coach Paul Eberhardt is well respected across the country; the Falcons will be ready," said Jeff Harris, CCAA Men's Basketball Convenor. "The modern LEC provides a first-class venue to enhance the student-athlete experience."
The Falcons are three-time CCAA Men's Basketball National Champions (1998, 1999 and 2014). Langara captured CCAA gold in Squamish, BC, in 2014, the last time the National Championship was hosted by a PACWEST institution.
Langara proudly displays 25 CCAA titles, 172 PACWEST/BCCAA championships and has produced eight CCAA Players of the Year, 80 CCAA All-Canadians, 28 CCAA Academic All-Canadians and 14 CCAA Coaches of the Year.
"Since 1971, the Langara College Falcons have proven their success on and off the court and field, year after year," said Jake McCallum, Director, Athletics & Intramurals.
The LEC, which opened in 2009, is well situated in the beautiful, agriculture-rich Fraser Valley in the Township of Langley, BC. It is home to the Vancouver Giants (Western Hockey League), Vancouver Stealth (National Lacrosse League) and BC High School Girls and Boys Provincial Basketball Tournaments.
"The LEC has a history of providing world-class experiences for all levels and sizes of competition," said McCallum. "We look forward to welcoming the country to the west coast for an experience second to none."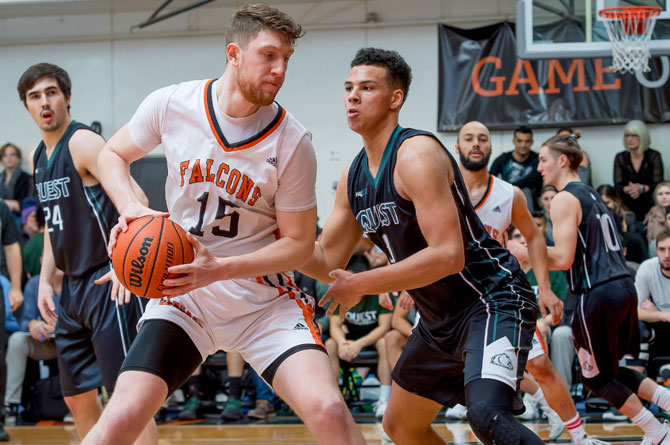 Photo: Langara Falcons forward Grant Galbraith in action
About Langara College
Located in beautiful Vancouver, B.C., Canada, Langara College provides University, Career, and Continuing Studies education to more than 21,000 students annually. With more than 1,700 courses and 130 programs, Langara's expansive academic breadth and depth allows students of all ages, backgrounds, and life stages to choose their own educational path. Langara is also known as house of teachings, a name given to it by the Musqueam people on whose unceded traditional territory the College is located.
Learn more. 
Travis Smith
Manager, Public Affairs
Langara College
tsmith@langara.ca
604.323.5733
Rodney Wilson
Manager, Communications & Events
Canadian Collegiate Athletic Association
rodney@ccaa.ca
613.937.1508 x 3