May 1, 2018
Vancouver, BC – With the return of spring comes the renewed threat of crow attacks. Langara College Continuing Studies instructors Jim O'Leary and Rick Davidson have relaunched an interactive user-generated map that tracks aggressive crow behaviour in the city. This year the tool also tracks the movements of the (in)famous Canuck the Crow.
"We found our poster boy in Canuck," said Jim O'Leary, an instructor in Langara's Geographic Information Systems (GIS) certificate program. "He's notable for the orange band on his left leg, and for his questionable behaviour. It only makes sense to use the CrowTrax technology to track his whereabouts along with the usual springtime crow attacks."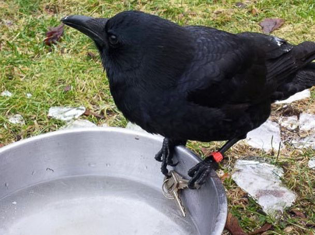 From April to June each year, the number of crow attacks on pedestrians increases, as the birds work to protect their young during nesting season. Users who have been recently attacked by a crow can add it to CrowTrax and help develop an accurate representation of crow activity in Vancouver.
CrowTrax pinpoints the location and severity of crow attacks in Vancouver. The online tool received over 1,500 inputs in 2016, and another 2,000 in 2017. The project is an example of a GIS in action, not unlike those that O'Leary and Davidson teach students about at Langara.
"CrowTrax collects valuable data for analysis, but it's also a fun way to show the power of GIS technology," said O'Leary. "From tracking customers to planning for catastrophes, the fundamentals that power CrowTrax have incredibly broad applications."
About Langara College
Located in beautiful Vancouver, B.C., Canada, Langara College provides University, Career, and Continuing Studies education to more than 21,000 students annually. With more than 1,700 courses and 130 programs, Langara's expansive academic breadth and depth allows students of all ages, backgrounds, and life stages to choose their own educational path. Langara is also known as house of teachings, a name given to it by the Musqueam people on whose unceded traditional territory the College is located.
Learn more. 
Travis Smith
Manager, Public Affairs
Langara College
tsmith@langara.ca
604.323.5733