Mar 29, 2018
Vancouver, BC – Langara College has been awarded a BC Innovation Council Ignite Award. This marks the first time BC colleges have received the award. The $90,000 in funding will support an agricultural project led in partnership by chemistry instructors Kelly Sveinson, Dr. Todd Stuckless, and Dr. Rob Stephenson, CTO of Muddy River Technologies.
BC Ignite Funding is awarded to projects that aim to solve industry problems in natural resources and applied sciences and that have the potential to significantly benefit British Columbia. Projects must be led by a group containing both academic and industry members.
"This sort of applied innovation is a perfect fit for the College," said Sveinson. "We have very strong ties to our community and are well-suited to partner with industry on these more applied projects."
The project involves developing a cost-effective solution to prevent soil degradation and water contamination by removing phosphorus and nitrogen from animal manure. In confined landscapes like the Fraser Valley, livestock produce more manure than can be absorbed by the soil. Farmers' herd sizes are limited by the amount of manure they are able to store over the winter months when rainy weather makes it impossible to apply it back to the land. Storage comes with its own challenges, including cost, odour, and air pollution.
The Langara College project will develop a process that treats the manure and yields a low-nutrient liquid that could be applied back to the land, even in winter. The process does this using two main techniques. The first step is to remove phosphates using an electrochemical process similar to that used in environmental cleanups. The second step is to use a biochar carbon filter to remove the nitrogen, not unlike how a household filtered water pitcher works. The nitrogen and phosphorus are produced as a solid and could then be sold or stored for use as a fertilizer.
In addition to Sveinson and Stuckless, the project will engage Langara environmental science and chemistry students. The Ignite Award funding will be used primarily for testing the device in the lab and in the pilot stage where a larger version of it is taken to a farm to show proof of concept in the field.
"We're so excited that BCIC sees the value proposition of our project," said Sveinson. "There's a lot of potential for this product for farmers within the province and beyond."
Additional Ignite Awards were awarded to two projects led by UBC and one from Selkirk College.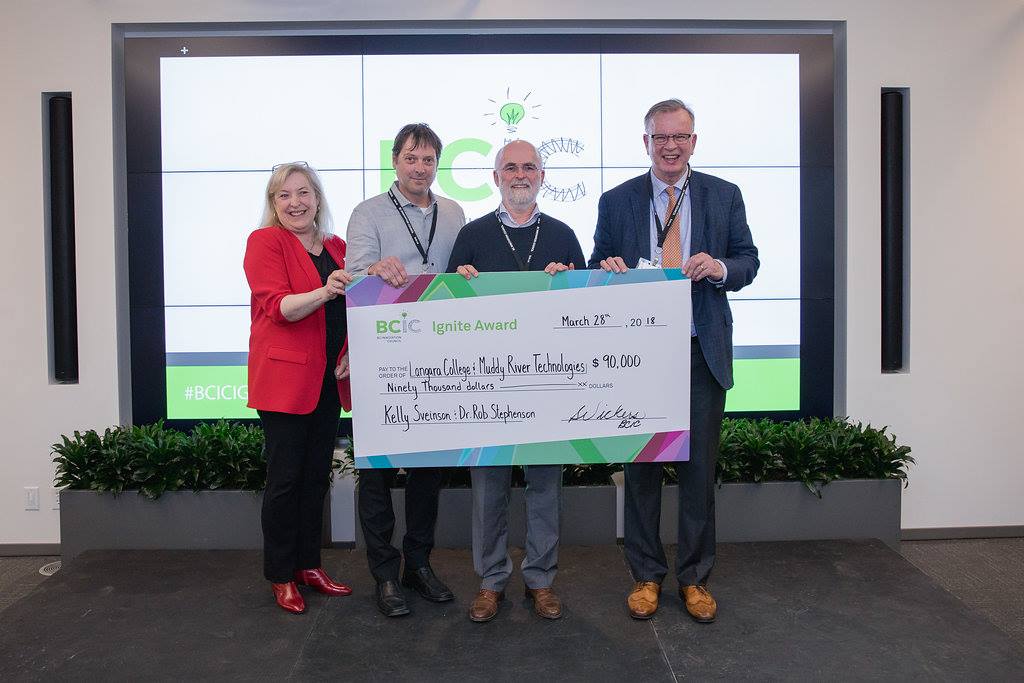 BCIC President and CEO Shirley Vickers, Kelly Sveinson (Langara College), Dr. Rob Stephenson (Muddy River Technologies), Minister of Jobs, Trade and Technology Hon. Bruce Ralston.
About Langara College
Located in beautiful Vancouver, B.C., Canada, Langara College provides University, Career, and Continuing Studies education to more than 21,000 students annually. With more than 1,700 courses and 130 programs, Langara's expansive academic breadth and depth allows students of all ages, backgrounds, and life stages to choose their own educational path. Langara is also known as house of teachings, a name given to it by the Musqueam people on whose unceded traditional territory the College is located.
About the BC Innovation Council
The BC Innovation Council, a Crown Agency of the Province of British Columbia, encourages the development and application of advanced or innovative technologies to meet the needs of industry in BC. BCIC and its partners deliver programs and initiatives that promote company growth, resulting in jobs, increased revenue and economic development across the province.
Learn more. 
Travis Smith
Manager, Public Affairs
Langara College
tsmith@langara.ca
604.323.5733