Apr 10, 2017
Vancouver, BC – Langara College and the University of Northern British Columbia (UNBC) have established a memorandum of understanding that will facilitate students transferring successfully from Langara to UNBC.
"We're very pleased to formally build our relationship with UNBC, resulting in more opportunities for our students to transfer to one of BC's leading universities," said Dr. Ian Humphreys, Provost and Vice President, Academic and Students. "As a pathways college, we aim to strengthen our relationship with institutions throughout British Columbia."
Under the terms of the five-year agreement, Langara students who meet the eligibility requirements and have completed the Associate of Arts or Associate of Science degrees will be considered for admission into one of 10 different third year Bachelor's programs at UNBC.
"This partnership with Langara College will make it easier for students to earn their degree at Canada's top-ranked small university," said Dr. Daniel Weeks, President. "UNBC is committed to providing next-generation leaders with opportunities to study, conduct research and discover how they can make an impact in their community and around the world. We look forward to welcoming even more students from Langara to our campuses."
The institutions have agreed to collaborate in assisting students with the process and helping them understand transfer requirements, effective September 2017. Langara provides accessible pathways for students to continue their education at universities across Canada.
About UNBC
Located in the spectacular landscape of northern British Columbia, UNBC is Canada's best small university according to Maclean's magazine. We have a passion for teaching, discovery, people, and the North.
About Langara
Located in beautiful Vancouver, B.C., Canada, Langara College provides University, Career, and Continuing Studies education to more than 21,000 students annually. With more than 1,700 courses and 130 programs, Langara's expansive academic breadth and depth allows students of all ages, backgrounds, and life stages to choose their own educational path. Langara is also known as snəw̓eyəɬ leləm̓, a name given to it by the Musqueam people on whose unceded traditional territory the College is located.
Learn more.
Mark Dawson
Manager, Communications & Marketing
Langara College
604.323.5702
mdawson@langara.ca 
Peter James
Communications Officer
UNBC
250.960.5420
peter.james@unbc.ca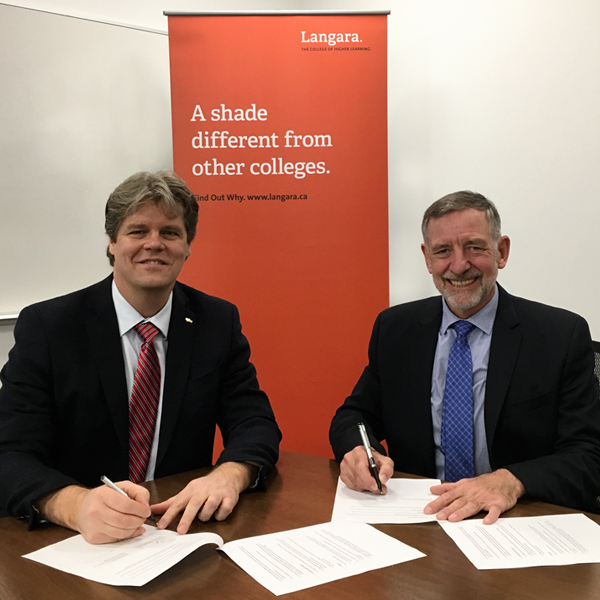 Photo:
Dr. Dan Ryan, Interim Vice President, Academic and Provost, UNBC (L)
Dr. Ian Humphreys, Provost and Vice President, Academic and Students, Langara College (R)