Mar 30, 2017
Vancouver, BC – The Spring 2017 Scholarship Café was held on March 30, featuring 28 presentations ranging from student-led research projects to advance knowledge, to original research conducted in partnerships with community organizations and local businesses.
Keynote speaker Philip Robbins introduced Langara's new Makerspace as a place for collaboration across disciplines, where people can gather, create, and learn from each other.
"It was wonderful to see the level of interest from students and faculty in the exciting research that is conducted here on campus," said Margaret Heldman, Dean of Science and the Chair of the Scholarly Activity Committee. "It is very rewarding for the presenters to have the opportunity to explain their research. We were excited to have external partners join us for the first time. The showcase was a great success."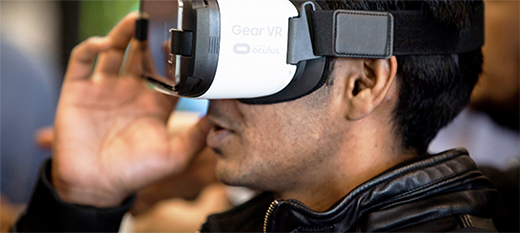 The café featured projects from various departments including Health Sciences, Langara School of Nursing, Psychology, English, Recreation, CSIS, International Education, Chemistry, Biology, Geography, Publishing, Photography, and the Langara School of Management. Presentations included the pilot of the Preview Ed Tool, developed by the Langara School of Nursing in partnership with Fraser Health to prevent unnecessary transfers to the Emergency Department; new technologies such as a smoking cessation app and wearable wifi smartphone and app; and the Writing Lives Holocaust Memoir project.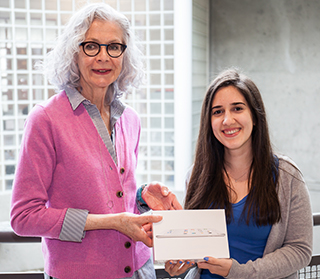 The winner of the iPad draw was Fernanda Toledo.
The Scholarly Activities Committee hosts the Scholarship Café each year to encourage interdisciplinary sharing of knowledge, promote peer learning, and bring the Langara community together to celebrate innovation, research, and discovery. For more information about this or an upcoming event, please contact scholarlyactivity@langara.ca.
Learn more about Langara's scholarly initiatives in the Idealogue newsletter.
About Langara
Located in beautiful Vancouver, B.C., Canada, Langara College provides University, Career, and Continuing Studies education to more than 21,000 students annually. With more than 1,700 courses and 130 programs, Langara's expansive academic breadth and depth allows students of all ages, backgrounds, and life stages to choose their own educational path. Langara is also known as snəw̓eyəɬ leləm̓, a name given to it by the Musqueam people on whose unceded traditional territory the College is located.
Learn more.
Wendy Weston
Communications Officer
Langara College
604.323.5884
wweston@langara.ca