Jan 19, 2017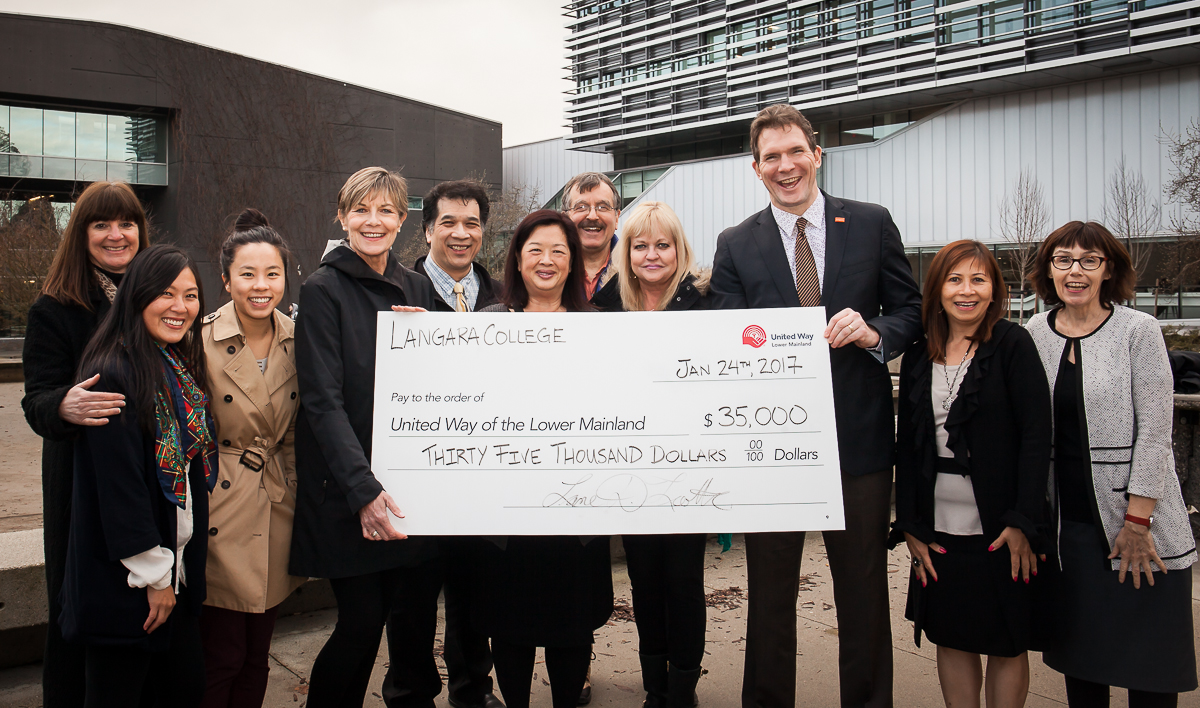 Vancouver, BC - During the 2016 fall season, Langara College students and employees raised $35,036.45 in their annual fundraising initiative for the United Way of Lower Mainland. The amount was raised through the generous support of donors within the Langara community and through a number of events on and off campus.
Three Langara students were also hired at the United Way as part of Langara's Co-operative Education program. The three students - Jaskamal Singh, Argi Ahmadi and Jack Basterfield - were ambassadors for the United Way at various institutions, including Langara College.
"Taking on a co-op position at United Way has been the most life-changing experience for me. It's opened my eyes to the world of non-profits and how high of an impact they have in our society and community," says Argi Ahmadi about her Co-op experience. "Because of my four months at United Way, I was able to increase my professional network by approximately 150%, which resulted in me getting offered a job. I am forever grateful of the people I met, the experiences I had, the skills I acquired, and the number of lives I was able to change by raising money for an organization that does so much good for the community," she added. 
"I want to express my appreciation to Langara for sponsoring and supporting our students to be able to work and contribute during the campaign period," says instructor Dionne Orrange from Langara's Co-op & Career Development Centre.   
Brenda Aynsley, VP of Resource Development for the United Way of the Lower Mainland adds, "Langara College actively engages in the communities it serves. From President Dr. Trotter volunteering with United Way to creative fundraising activities like duck races and plane pulls hosted by Langara's United Way Committee, I would like to thank Langara for their generous support of United Way."
Langara has a longstanding tradition of serving the wider community by fostering connections, health, and generosity. In an ongoing commitment to help others, and to support a culture of giving, Langara has been a proud supporter of the United Way of Lower Mainland for over 25 years. Since 1991, through the work of the Langara Employee United Way Committee, we have raised close to $700,000. This money goes to support the local United Way which works with over 150 agencies and 450 programs to support and advocate for those in need.
About Langara
Located in beautiful Vancouver, BC, Canada, Langara College provides University, Career, and Continuing Studies education to more than 21,000 students annually. With more than 1,700 courses and 130 programs, Langara's expansive academic breadth and depth allows students of all ages, backgrounds, and life stages to choose their own educational path. Langara is also known as "house of teachings", a name given to it by the Musqueam people on whose unceded traditional territory the College is located.
About United Way of Lower Mainland
United Way of the Lower Mainland is dedicated to creating healthy, caring and inclusive communities by helping families move from poverty to possibility, kids be all that they can be and building stronger communities for all. We are leaders in our field developing partnerships, tracking progress, and bringing the right people together to initiate change. To learn more, visit www.uwlm.ca.
Media contact:
Deborah Schratter
Communications Officer 
Communications and Marketing
Langara College
604.323.5014