Dec 6, 2016
Vancouver, BC – A Langara student project outlining the creation of a salt marsh in Charleson Park on False Creek won third place at the CityStudio Hubbub 7 event. The group project by 'We Shore Can' aims to increase biodiversity and stem the impact of sea level rise through the development of a small-scale salt marsh and a redesign of the seawall around Charleson Park. 
The projects are part of a collaboration between Environmental Studies 2100 (Problems and Solutions), an Interdisciplinary Studies course, and CityStudio. Students are matched with mentors from the City of Vancouver to create projects that, if implemented, will aid in meeting the city's Greenest City Action Plan and Healthy City Strategy goals and targets.
"Langara students and municipal staff work together to create impactful projects that aid in the cumulative effort of creating the greenest city in the world," says Langara instructor Andrew Egan. "[We are] very proud of these student projects, and believe this is evidence of the positives of experiential learning and student-based efforts to create sustainable change in our society."
The environmental studies students unveiled three solutions to a variety of environmental and social issues faced by the City of Vancouver. The projects focused on mitigating the impacts of climate change, increasing biodiversity. and the creation of unique Vancouver-centric electric vehicle charging stations.
"We Shore Can" concentrated on increasing biodiversity with shoreline realignment through building a sustainable one-hectare salt marsh within Charleson Park's Intertidal Zone; "Let's be Fronds" studied the creation of companionship plantings with the goal to increase biodiversity of local flora and fauna. The solution includes holding public classes to increase awareness and encourage planting of native plants in public and private areas; "Electric Change" focused on the design of two unique electric vehicle charging stations for curbside deployment in both residential and commercial properties. The goal is to create a unique Vancouver-specific design that encourages and advances the transition to electric vehicles in the city. 
Langara is an active participant in CityStudio's Partner Network, and through this collaboration past students have seen their projects adopted and referenced by the City of Vancouver. 
About CityStudio Vancouver
CityStudio Vancouver is an innovation hub inside City Hall where staff, university students, and community members co-create, design, and launch projects on the ground. The central mission of CityStudio is to innovate and experiment with the ways cities are co-created, while teaching students the skills needed to collaborate on real projects in Vancouver with City staff and community stakeholders. These projects improve our city and enrich our neighbourhoods, making the city more livable, joyful and sustainable.
About Langara
Located in beautiful Vancouver, B.C., Canada, Langara College provides University, Career, and Continuing Studies education to more than 21,000 students annually. With more than 1,700 courses and 130 programs, Langara's expansive academic breadth and depth allows students of all ages, backgrounds, and life stages to choose their own educational path. Langara is also known as house of teachings, a name given to it by the Musqueam people on whose unceded traditional territory the College is located.
Learn more.
Mark Dawson
Manager, Communications and Marketing
Langara College
604.323.5702
mdawson@langara.bc.ca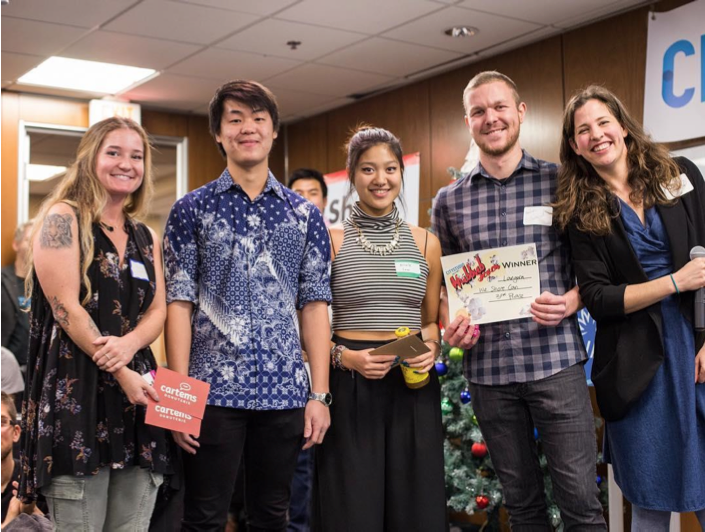 (L to R): Haley Trent, Jeffrey Loek, Nicole Low, Frederic Guilbault, Jeanie Morton (CityStudio)