Apr 1, 2016
Vancouver, BC – Langara will bid farewell to its long standing rock star this April. The Rock, as it is known to the community, is scheduled for demolition to make way for new bench seating. The process will begin on Monday when workers remove the upper portion and begin to break apart the buried base.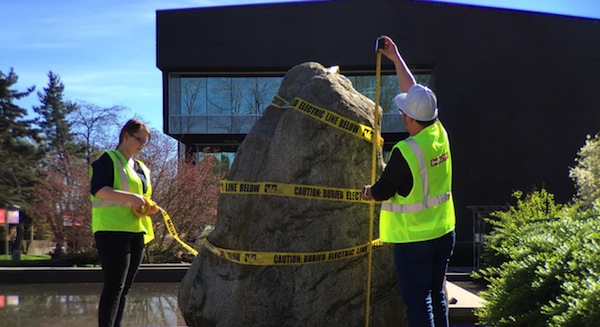 Contractors size up the soon-to-be-demolished stone, which has been the centerpiece of Langara for many years.
The visible portion of the rock has been an unofficial Langara mascot since the campus opened in the seventies. Throughout the years, it has donned festive garb for Christmas, rabbit ears for Easter, and been the bedrock of the College's Pink Shirt Day and Movember campaigns. The Rock also had a strong social media presence, including its own Facebook album, and was the setting for innumerable convocation photos throughout the years.
"This isn't going to be a straightforward scoop-and-go kind of job," says Foreman Rick Boulder of Stonehenge Demolition, whose crew is overseeing the demolition. "The part of the rock you see is just the tip of the iceberg; it actually goes down nearly 16 feet into the ground."
Boulder predicts a messy removal process following his team's seismic survey of The Rock's underground mass. Due to its sheer size, it will need to be broken into smaller pieces before being removed. Once the pieces have been removed, a crater nearly thirty feet in diameter will need to be filled.
"We're talking tons of material and a lot of chiseling," explains Boulder. "But it's nothing some good old elbow grease, several jackhammers, an excavator, and six dump-truck loads won't take care of."
Though it will be removed, The Rock will physically remain part of Langara. The broken pieces will be processed into concrete for the final stages of Langara's new Science & Technology Building.
While news of The Rock's pending demolition received mixed reactions, many pro-demo folks have commended the College for adding more benches to the campus.
"I'm pretty pumped for the bench to be honest," said one individual, who wished to remain anonymous. "Besides, it's not healthy to humanize inanimate objects. I don't want to get all sedimental about it, but you're just setting yourself up for a hard fall."
Those opposed to the demolition are stuck between a rock and a hard place, having been stonewalled by red tape.
"It's sad news," says Langara student Kevin Charlotte. "I pass it every day on the way to class. I wish I hadn't taken it for granite."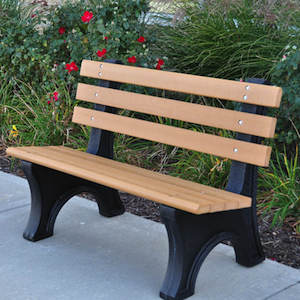 A park bench like the one that will replace The Rock.
Happy April Fools Day!
About Langara
Located in beautiful Vancouver, B.C., Canada, Langara College provides University, Career, and Continuing Studies education to more than 21,000 students annually. With more than 1,700 courses and 130 programs, Langara's expansive academic breadth and depth allows students of all ages, backgrounds, and life stages to choose their own educational path. Langara is also known as house of teachings, a name given to it by the Musqueam people on whose unceded traditional territory the College is located.
Learn more.
Geoffrey Smith
Communications Officer
Langara College 
604.323.5014
geoffreysmith@langara.bc.ca