Feb 25, 2016
Vancouver, BC – Langara College's Math and Science Division will host over 200 students at the 2016 Vancouver District Science Fair on Friday, March 4.
The Vancouver District Science Fair is a district-wide event that students enrolled in grades 7-12 at all Vancouver public schools are invited to participate.
"We appreciate this opportunity to work with the Vancouver School Board to encourage and support young scientists," says Gerda Krause, Langara Division Chair of Math and Sciences. "It is the fourth year Langara has hosted the fair, and our faculty and staff continue to enjoy working with these enthusiastic students, from presenting workshops, to judging their projects, to showing off chemistry and physics in a magic show."
The fair enables students to gain hands-on experience with science experiments of their choosing. Last year's projects covered a vast range of topics including water desalination, the connection between music and heart rate, and the chemistry of baking cookies.
"Much has been said about reframing the curriculum to teach core competencies at every level, but there remains an underlying uncertainty about how such initiatives should be implemented in classrooms," said Jeanne Yu, teacher and fair organizer.
"At the same time, science fairs encapsulate the ideals behind this curricular shift. The fair itself provides a supportive environment where students can hone their communication skills and connect with their local community. For myself and my fellow colleagues, the projects are tangible reminders of the rich learning that can occur when community-inspired inquiry, self-directed learning, and critical thinking skills meet."
A panel of judges will select the top 85 projects to represent Vancouver at the Greater Vancouver Regional Science Fair in April. For more information about the 2016 Vancouver District Science Fair, visit the Vancouver District Science Fair website.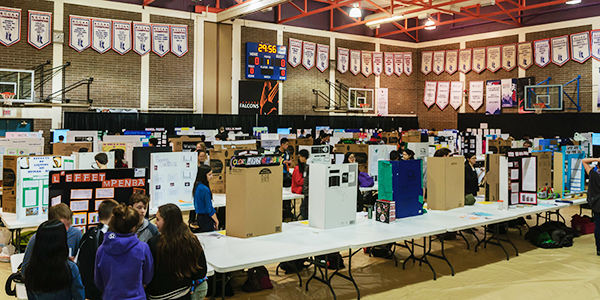 About Langara
Located in beautiful Vancouver, B.C., Canada, Langara College provides University, Career, and Continuing Studies education to more than 21,000 students annually. With more than 1,700 courses and 130 programs, Langara's expansive academic breadth and depth allows students of all ages, backgrounds, and life stages to choose their own educational path.
Learn more.
Geoffrey Smith
Communications Officer
Langara College
604.323.5014
geoffreysmith@langara.ca