May 16, 2015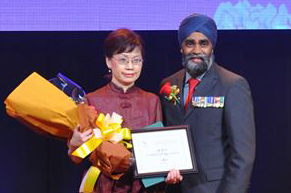 Vancouver BC – Langara School of Nursing would like to congratulate Nursing Instructor Lyren Chiu on receiving the Outstanding Woman of Canada award. The award was presented at the United Global Chinese Women's Association of Canada Celebration dinner on May 16, 2015 at the River Rock Show Theatre in Richmond.
Dr. Chiu was nominated for this award by the United Global Chinese Women's Association of Canada (UGCWA) for her ability to adapt and thrive in her new environment in Canada, and her contributions to Canadian healthcare. 
Since 1999 Dr. Chiu has founded and actively participated in several not-for-profit organizations, community services, and social enterprises. She is the founding director of the Federation of Traditional Chinese Medicine Colleges of Canada, and of A Coalition Against Bill C51. Dr. Chiu is President, Founder, and Executive Director of the Canadian Research Institute of Spirituality and Healing (CRISH).  Incorporated in 2006, CRISH is an international charity organization devoted to promoting multidisciplinary research and education in spirituality, culture, and health care.
"I was thrilled to be nominated for this award," says Chiu. "I have dedicated my career to researching, teaching, and advocating for spirituality and healing. It is wonderful to know that I have been able to make a difference in this field."
Dr. Chiu has received numerous awards, including the Peter Wall Institute for Advance Studies Early Career Award. Dr. Chiu was recognized as both a "visionary" by Vancouver Women's Magazine in 2009, and as a "change agent" by the Diasporas Project led by SFU in 2012 for her work in educating Canadian society about the values and practices of integrated healing. Dr. Chiu has also published more than 40 articles. Currently, she incorporates spirituality into her teaching as an instructor in the School of Nursing at Langara College.
"Lyren's approach towards Nursing education through spirituality and integrated healing provides a fresh point of view in our department," says Janine Lennox, Chair, School of Nursing. "We are very proud that our faculty member is receiving this prestigious award."
About the United Global Chinese Women's Association of Canada (UGCWA)
The United Global Chinese Women's Association of Canada (UGCWA) is a not-for-profit organization in BC, which recognizes and advances women of interest. With support from the BC Government, this event, which recognizes outstanding women has become a very influential event each year.
Chiu's award was mentioned in an article in the Metro News on June 9, 2015.
About Langara
Located in beautiful Vancouver, BC, Canada, Langara College provides Post-degree, University, Career, and Continuing Studies education to more than 21,000 students annually. With more than 1,700 courses and 130 programs, Langara's expansive academic breadth and depth allows students of all ages, backgrounds, and life stages to choose their own educational path.