Mar 27, 2014
Vancouver, BC - Langara College and the University of Northern British Columbia have announced a partnership that will see spaces in UNBC's Bachelor of Social Work (BSW) degree program opened at Langara's Vancouver campus.
A Memorandum of Understanding was signed today by Langara's President Dr. Lane Trotter and UNBC's Interim President Dr. Mark Dale.

"We're very excited to be building on the partnership we started with the UNBC MBA program in 2013," said Dr. Trotter. "The unique delivery of the BSW program opens up new educational opportunities for students in the Vancouver area and supports Langara's commitment to providing our diverse student community with the services, programs, skills, and experience to be productive, creative, and engaged global citizens."
The UNBC BSW program prepares students for generalist social work practice with individuals, families, groups, and communities. Incorporating critical thinking, including structural, feminist, and anti-racist analyses, the program connects practice to theory and strives to develop critical self-awareness in its students as well as respect for the ideas of others. The BSW program acknowledges the holistic, interdisciplinary, and activist nature of social work and its commitment to social justice.

"This partnership with Langara College helps UNBC share our passion for research, teaching, and education," said Dr. Dale. "The mixed delivery model we're offering will allow social work students to complete work during the evenings, on weekends, and online, and provides a real benefit for those seeking to complete the program without leaving the Lower Mainland."

To learn more about the BSW program and how to apply visit the UNBC webpage.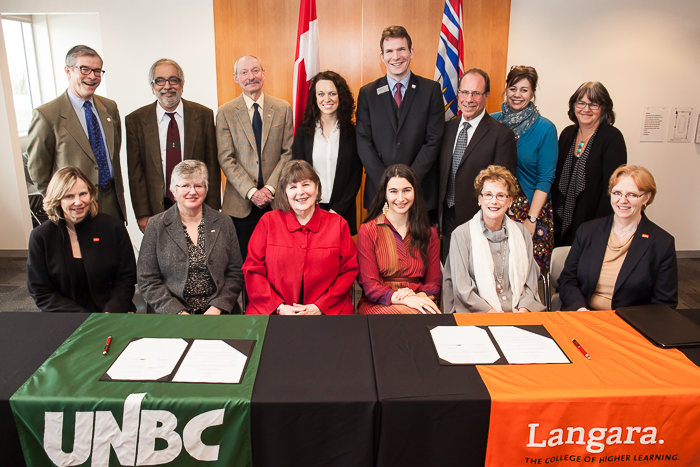 Representatives from UNBC and Langara gather to commemorate the signing of the new Bachelor of Social Work partnership. Photo: Langara College/Jennifer Oehler.

About Langara
Langara College, located in beautiful Vancouver, BC, Canada, provides University, Career, and Continuing Studies programs and courses to more than 21,000 students annually. The College's expansive academic breadth and depth allow students to choose their own educational path.

About UNBC
Located in the spectacular landscape of northern British Columbia, UNBC is one of Canada's best small universities. As one of BC's research-intensive universities, we have a passion for teaching, discovery, people, the environment, and the north. UNBC provides outstanding undergraduate and graduate learning opportunities that explore cultures, health, economies, and the environment.

Learn more.
Annie Mullins
Communications Officer
Langara College
604.323.5058 | amullins@langara.bc.ca