Feb 25, 2014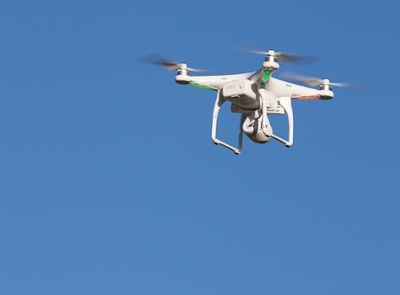 Vancouver, BC - The journalism school at Langara College is teaching students how to use a drone for newsgathering. As of January 2014, students enrolled in the spring semester are receiving training in the safe deployment of a remote-controlled, camera-bearing "quadcopter" drone to fly over and around sites related to news events, and to obtain video footage and still photos for use in news stories.
Instructor Ethan Baron – a journalist, photojournalist, and former Province columnist who spent some six months reporting under armed drones and surveillance drones in Afghanistan and Africa – is spearheading the project with the 12 students currently enrolled in his daily newspaper writing and reporting class. The students are divided into three teams, each with a pilot, a drone-camera operator, a ground-camera operator, and a producer/spotter who is charged with identifying flight hazards and arranging access to news scenes.
"Media outlets around the world have just begun using drones to gather news, and these aircraft will play a crucial role in news coverage in the future," said Baron. "This drone training at Langara will put our students at journalism's cutting edge, and boost their employability in a highly competitive job market."
The Langara journalism students are learning on a four-rotor drone that carries a built-in high-definition camera capable of shooting video and still photos. Flight is controlled by a hand-held remote controller and the camera, which can pan and tilt, is controlled via a smartphone that can be operated by the drone pilot or another team member. Students must abide by a lengthy list of rules for safe operation, including restrictions on deploying the drone in situations in which it could affect the outcome of news events such as hostage-takings. Langara's journalism department is working with Transport Canada to ensure that the program complies with aviation law.
The $1,300 "Phantom 2 Vision" drone has been donated to Langara for beta testing and educational purposes by the US marketing department for Chinese manufacturer DJI Innovations. The 1.5kg aircraft has flexible propellers and poses minimal safety risk to drone team members or the public. It's equipped with GPS and will return to the pilot should the controller malfunction or the aircraft exceed its 500-metre range.
Video: Check out this student-produced video of the drone in action (length: 1:36). 
Media Coverage:
The Province: Langara College journalism students learn to gather news using drones
Metro News: Vancouver's Langara College j-school uses airborne drones for news gathering
About Langara's Journalism Program
Langara College's Journalism Program has earned a reputation as one of the top schools in Canada for intensive, hands-on training. Students can earn a two-year diploma or an eight-month certificate for those with a bachelor's degree. The next info session is March 20, 2014, 6-8pm in A226. 
Media contact

Ethan Baron
Instructor, Journalism Department
Langara College
Office: 604.323.5877
Cell: 778.929.3327
ebaron@langara.bc.ca