Nov 19, 2013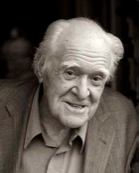 Vancouver, BC – Antony Holland, founder of Studio 58 and one of the last surviving veterans of the desert war in Egypt during WWII, will be featured at an upcoming benefit performance on Saturday, November 30th, 2013.

Holland is the oldest working actor in Canada, as well as one of the nation's finest storytellers. The retrospective, titled One Man in His Time, will be an extraordinary presentation of Holland's most cherished work, along with colourful stories from the actor himself that promise to be moving and entertaining. All proceeds from this memorable evening will be donated to Studio 58 student scholarships.
"This is a must see. Historical. Poetic. Funny. Touching. A real connection to history from someone who was there," says Kathryn Shaw, Studio 58's Artistic Director.

Originally from England, Holland's fascinating career includes a decade as vice-principal at the legendary Bristol Old Vic Theatre School – founded by Sir Laurence Olivier in 1946. He relocated to Canada in 1957, and became a pioneer of theatre in BC. He has appeared in countless movies and television series, and acted on professional stages for over 60 years. Holland's legendary Studio 58 performance as King Lear has only been eclipsed by his role as 'Morrie' in the 2011 stage adaptation of Tuesdays with Morrie, seen by more than 45,000 people across the country. At the tender age of 93, Holland is the oldest professional actor still playing leading roles in Canada. He has been recognized with numerous awards of excellence, including three "Jessies", as well as being inducted into the BC Entertainment Hall of Fame. 

In 1965 Holland founded what would become the Studio 58 Professional Theatre Training Program, where he served as Artisitic Director until 1985. He is one of the country's most treasured thespians, and his contributions to the arts were recently recognized by the College, where he was awarded the title Artistic Director Emeritus. 
"Antony Holland is pure theatre." - The Province
Ticket Information
Date: Saturday, November 30, 2013
Time: 8:00 pm
Tickets: $25
Location: Studio 58 is located in the basement of the Main Building, Langara College (campus map)
Order by phone: 604.684.2787 (Additional $5.00 per phone order)
Order on-line: www.ticketstonight.ca
Learn more
Sherri Sadler
Manager of Communications, Studio 58
604.323.5652
ssadler@langara.bc.ca