Oct 31, 2013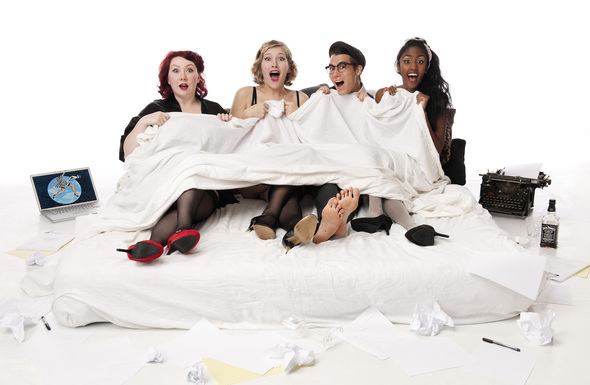 Vancouver, BC - 4PLAY: New Work by Excited Writers continues a Studio 58 tradition. This year marks the 10th mounting of this popular festival of one-act plays, featuring original work by Studio 58 students and recent graduates, once again under the tutelage of award-winning playwright Aaron Bushkowsky. In two exciting programs, directed by four of BC's best directors, the five playwrights delve into contemporary themes with a sharp eye and fresh voice.
Aaron Bushkowsky writes, "This year's trend in student writing tends to be post World War II - maybe because the bleak outlook best reflects today's world environment. Two plays look at the time around the Second World War with two unique perspectives with betrayal common to both. The two other plays are comedies that examine cultural and culturally absurd environments - one concerns family values, the other has fun with the meaning of life where pop rock rules in a surreal world of Karaoke. Consider these pieces to be newborns - full of wonder and ready to explore. Congratulations to everyone involved. This is a great start. Have fun. Play."
Program A
Tsuyako - This is the story of one woman's struggle for identity and love in a tumultuous period in Canadian history. As lovers are torn apart by war and culture the play asks "how much of our identity is our own to make?"
Fallout - On July 19, 1957, four American Air Force officers and one paid photographer stood at "Ground Zero, Population 5" while two jets roared 18,500 feet above them, detonating an atomic warhead. Falloutfollows these men and the women they love as they grapple with the event and its impact on their lives.
Program B
Perfect - Two young lovers--one Hindu, one Muslim--are thwarted by the forces of religious prejudice and their meddling parents. Add another suitor into the mix and we have a recipe for a budding love triangle where religion, wealth and parental interference cause mayhem and hilarity. Love, lies and Bollywood collide in this edgy comedy.
Karaoke: The Musical - Have you ever felt lost? Have you ever felt stuck between two worlds? Have you ever been in your twenties? Welcome to Holy Hal's Kosmik Karaoke where the foamy beer flows, the infectious music transforms and the search for meaning ends. Controlled by two mysterious characters (the not-so-humble host, Holy Hal, and the no-nonsense waitress, Faith) the play unfolds in a strangely weird karaoke bar. With a snap of Hal's fingers and a nod of Faith's head the night begins. At Holy Hal's anything can happen as long as you don't stop believing.
Show details
November 13-24, 2013
All tickets are only $11.00!
To make reservations please visit Tickets Tonight or phone 604.684.2787.
Learn more
Sherri Sadler
Manager of Communications, Studio 58
604.323.5652
ssadler@langara.bc.ca