Dec 5, 2013
VANCOUVER, BC – Langara welcomed provincial and city officials to campus today for a groundbreaking ceremony to celebrate the beginning of construction on the College's new Science and Technology Building.

Representatives from the BC Government, the City of Vancouver, and the Musqueam First Nation joined students, faculty, and staff to mark the occasion. Among them were: Elder Shane Point and Chief Wayne Sparrow, who opened the ceremony with an official blessing of the land; the Honourable Amrik Virk, Minister of Advanced Education; MLA for Burnaby North Richard Lee; Langara Board Chair Anne Lippert; Deputy Mayor for the City of Vancouver Tony Tang; and Langara President and CEO Roy Daykin.
"Congratulations Langara as you take another big step in your campus renewal," said Advanced Education Minister Amrik Virk. "New labs and classrooms will make your science and technology programs even better, and give students the skills they need to fill jobs as information systems analysts, healthcare professionals, geoscientists and in other areas where there's a real demand for workers right here in B.C." 
The 12,000 square meter (130,000 square feet) building will house specialized facilities for biology, chemistry, physics, astronomy, nursing, kinesiology, and computing science labs, as well as a lecture hall, multi-purpose classrooms, and collaborative study spaces.  The facility will target a minimum LEED Gold designation, incorporating green building features such as reflective and green roofs, use of local LEED-approved building materials, and hot water generation via solar thermal panels. The total estimated cost for the project is $48.9 million dollars.
"Today is an important day for Langara's students, employees, and Board, as we begin construction on an innovative new facility," said Anne Lippert, Chair of Langara's Board of Governors. "I want to thank Minister Virk and Deputy Mayor Tang for being with us today to mark the Province's and the City's support for the expansion of our campus."

"This new facility is an exciting part of the College's master plan to upgrade instructional facilities on campus," said College President and CEO Roy Daykin. "It exemplifies our commitment to providing students and faculty with state-of-the-art facilities designed to support high quality academic programs focused on teaching and research."
The project, led by Teeple Architects in conjunction with Proscenium Architects, is part of Langara College's 25-year master plan to upgrade and expand the campus, which began with the construction of the LEED Gold Certified Library and Classroom Building in 2007 and the Students' Union Building in 2009. Completion of the Science and Technology Building is scheduled for 2016. 
For more information on the project and the College's 25-year master plan, please visit the Campus & Facilities section of the Langara website. Read more about the groundbreaking on Storify.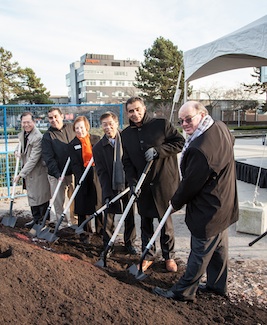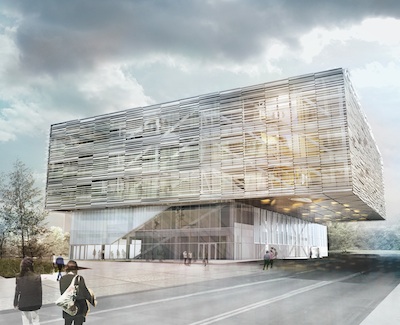 Left (L-R): MLA for Burnaby North Richard Lee, Chief Wayne Sparrow, Langara Board Chair Anne Lippert, Deputy Mayor Tony Tang, Minister of Advanced Education Amrik Virk, and Langara President and CEO Roy Daykin break ground on Langara's new Science and Technology facility. Photo credit: KK Law

Right: Architect's rendering of the new Science and Technology Building. Credit: Teeple Architects.
About Langara
Located in beautiful Vancouver, BC, Canada, Langara College provides University, Career, and Continuing Studies education to more than 21,000 students annually. With over 1,700 courses and 130 programs offered, Langara's expansive academic breadth and depth allows students of all ages, backgrounds, and life stages to choose their own educational path. 
Media Contact
Lisa Fisher
Director, Communications & Marketing Services
604.323.5619
news@langara.bc.ca