Sep 3, 2013
Vancouver, BC – Langara's Orientation Week was an overwhelming success this year. On August 26 more than 250 mothers and fathers of new Langara students attended Parent Orientation to tour the campus, learn about the College's resources, and understand the campus experience from their son/daughter's point of view. They also had a chance to hear from faculty, staff, and students who shared tips and stories on student success.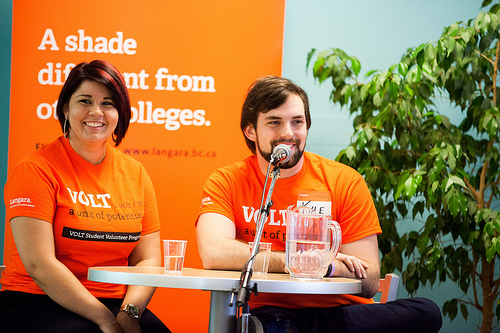 VOLT volunteers present at New Student Orientation. Photos by Jennifer Oehler.

From August 27 to 29 over 1,000 students joined the College community for their first time during four separate sessions of New Student Orientation. Each five-hour guided experience included ice-breakers, presentations, videos, campus tours, and a free BBQ. Langara would like to thank the over 60 volunteers from the VOLT student volunteering program who made Orientation Week possible, as well as community sponsors Langara Students' Union, ScotiaBank, and Vendmaster.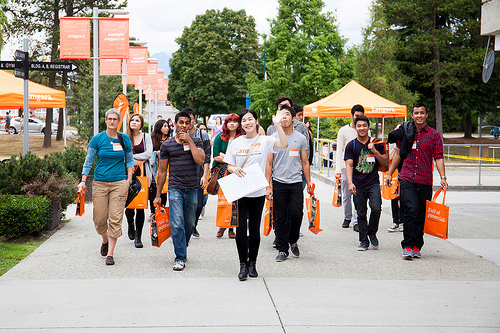 New students arrive on campus for orientation.

"Even the rain couldn't keep students away," said Reba Noel, Student Engagement Officer at Langara College. "I was really surprised at the number of students who showed up at 8:30 am on a rainy morning for our last orientation session. We put in a lot of effort to welcome students to our community so we're thrilled that it was a tremendous success."

The festivities continue with Langara's Welcome Week from September 3-5, 2013. Check out the full schedule of events. View more photos of Orientation Week by visiting Langara's Flickr page. 

Read more about the Semester Kick-off on Storify.

Learn more:
Sylvia Tan
Communications Officer
Langara College
604.323.5961| stan@langara.bc.ca