Aug 21, 2013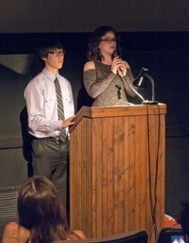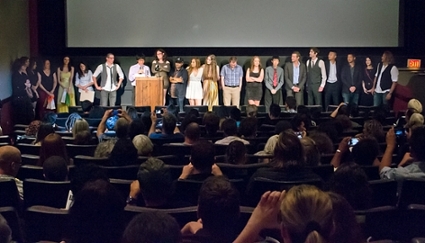 Graduates present their work at the 9th annual graduate film screening 'Unlock the Vault'. Photo credit: Tomo Tanaka.
Vancouver, BC – Langara Film Arts' 9th annual graduate film screening Unlock the Vault had two screenings last night at the Cinematheque, attracting an audience of over 300. The evening celebrated the achievements of the graduating class of 2013, a group of emerging actors, writers, and directors.

"Every year, we raise the bar. I'm very proud of the students this year," said Gary Fisher, Film Arts Program Coordinator. "They deserve to be congratulated for their incredible hard work and persistent dedication to the craft. They really poured their hearts and souls into these films over the past four months and it shows."

Unlock the Vault featured seven short films that spanned different genres. This year, viewers were treated to a creative mix of drama, action, sci-fi, and comedy.

"Film Arts students always do amazing work, but this year I was particularly impressed by the incredible cinematography and visual effects," said Julie Longo, Dean of Arts. "You could feel the meaningful collaboration between the actors, writers, and directors to create these captivating and beautiful films."
Congratulations to the following award winners:
Achievement Award for Acting Alecia Casselman & Ryan Cheong
Achievement Award for Writing: R.T. Abram
Achievement Award for Directing: Olivia Todd
Special Effects Award: Ryan Cheong
Janin Award: Katlin Longwright
Audience Favourite: Waves
About Film Arts
Film Arts
is an eight-month intensive, collaborative, and comprehensive program for students wishing to work in film as actors, writers, or directors. Students collaborate on projects and engage in intensive study in their own craft area. Courses in film studies, industry practices, and the principles and business of film production give students in all streams the knowledge to embark on creative film careers. The next intake is January 2014.
Learn more:
Sylvia Tan
Communications Officer
604.323.5961
stan@langara.bc.ca