Jul 22, 2013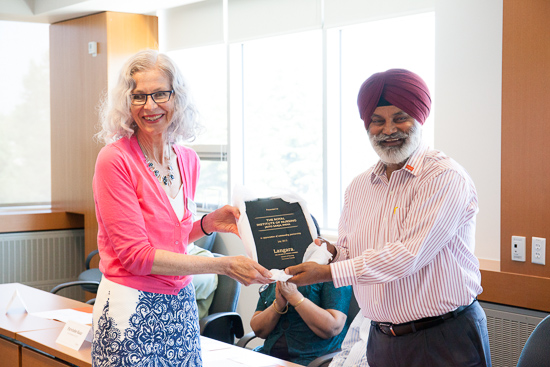 Langara's School of Nursing welcomed a delegation from a partner institution in India this week, to celebrate the success of an exchange program and to explore new opportunities for collaboration.
Representatives from the Royal Institute of Nursing (RIN) in India were presented with a commemorative plaque at the College in appreciation of an outstanding partnership program. Six Langara nursing students travelled with faculty members to Jaito Sarja, India, in January of 2013 for a six-week internship at the RIN. The Langarans held free clinics in various local communities, and gave speeches on the importance of healthcare to residents. Their experience proved to be very rewarding, both personally and professionally.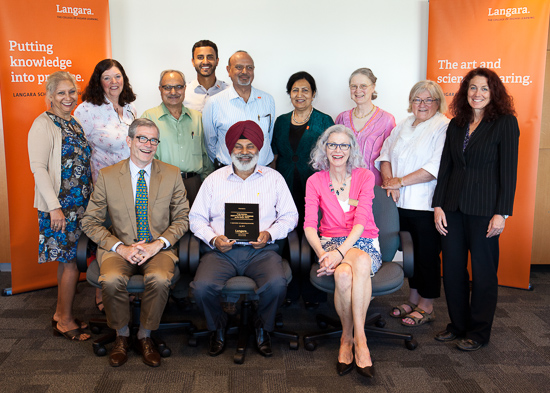 "I would like to extend my thanks and gratitude to those at Langara," said RIN's Chairman Sukhjinder Singh Randhawa during the delegation's visit. "Our teachers are able to learn from Langara's seasoned professional instructors, while our students learn about western culture from their Langara counterparts. Even our community benefits as residents of small towns enjoy meeting the Langara students and learning about their western world. For some this is the only exposure they will ever have."
Langara will soon accept nursing students from RIN at the College for four weeks, where they will experience our classes, simulation labs, and take part in observational visits to various healthcare agencies. Future plans for Langara students and instructors to return to RIN are in the works, and will include offering a free health clinic on the RIN campus for villagers who can't afford healthcare.

"Our hope is to close the educational gap between Langara and the RIN," Randhawa added, "to be able to provide the same educational experience that the Langara students receive to the RIN students." 
"This is a day of celebration," said Margaret Heldman, Langara's Dean of Science. "It affects more than the nursing faculty and students, but also the employees that have been engaged in this process."
About Langara

Located in beautiful Vancouver, BC, Canada, Langara College provides University, Career, and Continuing Studies education to more than 21,000 students annually. With over 1,700 courses and 130 programs offered, Langara's expansive academic breadth and depth allows students of all ages, backgrounds, and life stages to choose their own educational path. 
-30-
Media Contact:
Wendy Watson
Communications Officer, Communications & Marketing
604-323-5884 | wwatson@langara.bc.ca