Apr 10, 2013
Vancouver, BC – Langara is pleased to welcome Marc Rizzardo back to the Falcons athletic program, as head coach of the men's soccer team.
Rizzardo, who led the Falcons from 1986 to 2009, was one of the most celebrated coaches in the College's history, and is recognized as building one of Canada's strongest soccer programs. His efforts and leadership piloted Langara's men's soccer team to six Canadian Collegiate Athletic Association (CCAA) national medals, including four national championship titles (2000, 1999, 1993, and 1992).
"Since my commitment to the Canadian Olympic Committee is done for now I was itching to get back into coaching," said Rizzardo. "Langara College is the premier college, not only in BC but in all of Canada. Their ability to combine a great academic education with one of the top soccer programs in the country is very appealing."
In 2009 Rizzardo stepped down from his post as the longest serving coach in Langara history after building one of Canada's strongest soccer programs. In addition to his success on the national platform, his accolades include leading the Falcons to ten provincial league titles and seven provincial championship titles. He was named five times as the BCCAA (now PACWEST) Coach of the Year, and three times as the CCAA National Coach of the Year. While coaching the Falcons Rizzardo racked up an incredible record of 137 wins, 56 losses, and 35 ties.
Under Rizzardo's leadership the Langara men's soccer players flourished, winning five CCAA Academic All-Canadian awards, fourteen CCAA All-Canadian Awards and seventy-six BCCAA All-Star Awards. Over the years Rizzardo helped numerous players move on to the university level, as well as the national team and professional ranks.
"Needless to say we are thrilled to have Marc back," said Dean of Student Services Clayton Munro, on behalf of Langara's Athletics Department. "To bring in a character coach like him, with his level of experience and expertise and not to mention familiarity with the College, will be of great benefit to our student-athletes and our soccer program."

Rizzardo will return to the men's soccer helm following the departure of David Shankland, who coached the team from 2009 until this season. Shankland will be soon sharing his skills on the other side of the world, as the Head Coach for the reserve team of Romanian club CFR Cluj 1907.

If you are interested in trying out for the team, contact the Athletics Department at 604.323.5682 or email Marc directly.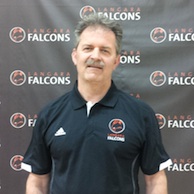 Marc Rizzardo returns to Langara.
Learn more.
Annie Mullins
Communications Officer
Communications & Marketing
T 604.323.5058
amullins@langara.bc.ca