Mar 17, 2013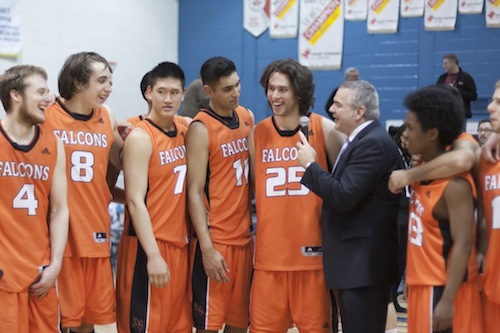 The Falcons are interviewed following their bronze-medal win at the CCAA national championships. Photo: Thorsten Gohl.
Vancouver, BC – The Langara Falcons men's basketball team has won the bronze medal at this year's Canadian Collegiate Athletic Association (CCAA) national championships.
The men faced #2-ranked Sheridan College Bruins in the exciting bronze medal match, capturing a 99-93 victory in overtime.

The game was a back-and-forth affair from opening tip to the final buzzer as both teams battled hard despite the fact that it was their second game of the day – and third within a 24-hour period.

"The spectators certainly got their money worth – it was an amazing game," Langara's head coach, and CCAA Coach of the Year, Paul Eberhardt said. "We couldn't put them away, but you have to give them credit for the way they never quit and kept coming back. I am just so proud of my team for playing so well after a bitterly disappointing loss last night."

The #1-ranked Falcons lost to #5-ranked Holland College in the semi-final on the second day of the tournament, eliminating their chances of winning the national championships. But the team fought back hard against Red Deer College to qualify for the bronze medal match.

The faced the Bruins on Saturday night in front of a packed house, claiming the victory in overtime with a final score of 99-93. Jesse Jeffers finished the match with 28 points and 17 rebounds and was named as Langara's Player of the Game.

Team leader – and recently announced All-Canadian – Brody Greig finished the game with 13 points, as did Glenn Ruby, and teammates Jitinder Lohcham and Elliot Mason finished with 12 apiece. Greig and Jeffers were also named as First Team All-Stars for the tournament.
See photos from Langara's bronze-medal match against Sheridan College, or watch a post-tournament interview with coach Paul Eberhardt:



Post-tournament interview with Paul Eberhardt. Video: Thorsten Gohl.
Interviewers: Matt Madewan
Learn more.
Annie Mullins
Communications Officer
Communications & Marketing
T 604.323.5058
amullins@langara.bc.ca