Mar 14, 2013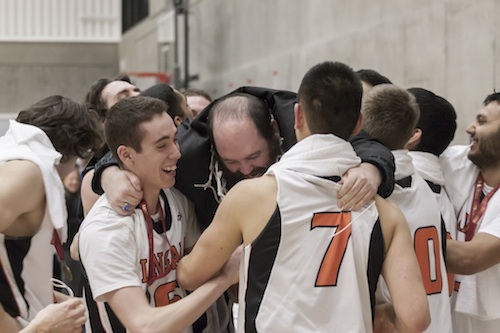 Coach Paul Eberhardt celebrates with the Falcons men's basketball team after winning the 2013 PACWEST championships. Photos: Thorsten Gohl.

Vancouver, BC – Langara congratulates Paul Eberhardt, head coach of the Langara Falcons, who was this week named the 2013 Canadian Collegiate Athletic Association (CCAA) Men's Basketball Coach of the Year.

Coach "Ebe", as he is called by his team, was honoured with the announcement at the CCAA Championship Awards Banquet on Wednesday night in Sainte-Anne-de-Bellevue, Quebec, where his team is currently competing in the CCAA national championships. The Falcons headed to the nationals this year ranked as the top team after a record-breaking season with Eberhardt.

"Paul has done an amazing job in his first year as head coach of the Langara Falcons," says Jeff Harris, CCAA men's basketball convenor. "We have great respect for what he's accomplished within a single season."

Langara made dramatic improvements over last season – Eberhardt's first year with the team – earning a 20-1 regular season record, first place in the CCAA national ranking, the PACWEST provincial title, and first seed at the 2013 CCAA Men's Basketball National Championship. They're the highest-scoring team in the country, averaging 93.5 points per game.

Coach Eberhardt's goal is "to push my athletes to their highest level, both physically and mentally, and to get them to set very high goals both personally and for the team."

"Langara is so very proud of Paul and the job he has done leading our men's basketball program," said Clayton Munro, Langara's Dean of Student Services. "This prestigious award is a reflection of his commitment and dedication to his players, to coaching, and to the sport, and we couldn't more happy for him."

The other nominees were Rod Adrian of the Briercrest Clippers, Dwight Dickinson of the St Thomas Tommies, Jim Flack of the Sheridan Bruins, and Éric Segal of the Dynamiques de Sainte-Foy.

The 2013 CCAA Men's Basketball National Championship takes place March 14-16 at Cégep John Abbott College in Sainte-Anne-de-Bellevue, Que.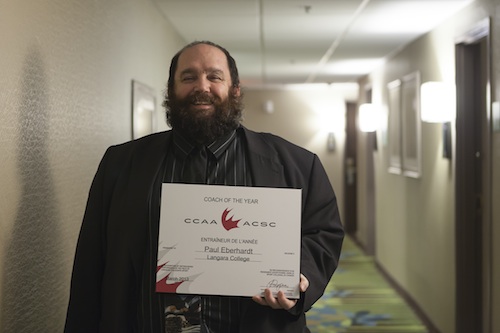 Eberhardt with his award following the CCAA banquet.
Learn more.
Annie Mullins
Communications Officer
Communications & Marketing
T 604.323.5058
amullins@langara.bc.ca