Mar 13, 2013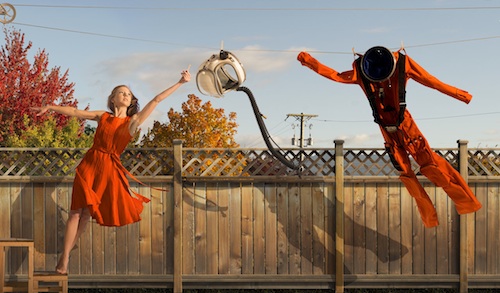 Rod Bland's award-winning photo "Sarah with Clothesline and Spacesuit". Copyright Rod Bland 2013.

Vancouver, BC – Langara would like to congratulate Continuing Studies Photography student Rod Bland on winning a 2013 Applied Arts Photography and Illustration Award for his picture "Sarah with Clothesline and Spacesuit". The image has been selected as the winner in the "Single Self Promotional Photo" category.

Entries from photographers and illustrators in 20 different countries flooded in for the awards this year, representing some of the very best work produced internationally over the past 12 months. All winning entries will be displayed in the May/June issue of Applied Arts Magazine, in a Winners Gallery on the Applied Arts website, and in the annual Winners Exhibit in Toronto this fall.

"It was a real honour to get the Applied Arts win, and even though this was not a student project I can give very direct credit to the Langara CS Photography Program and instructors for getting me where I am quickly," said Bland. "I believe that the program has given me insight and put me ahead towards becoming the type of professional photographer that I want to be."

Rod's concept for the award-winning entry was to find something "beautiful, interesting, and dangerous" in the mundane. The image comes from a series of work he created depicting regularly dull chores, tasks, and events in a way that is interesting, unsettling, fun, and contradictory. The "clothesline" image took three months to create, from original conceptualization to final execution.

The Vancouver-based photographer's background is in visual effects for film and television, a history which he believes has facilitated his quest to develop as a professional image-maker.

Learn more.
Annie Mullins
Communications Officer
Communications & Marketing
T 604.323.5058
amullins@langara.bc.ca