Mar 12, 2013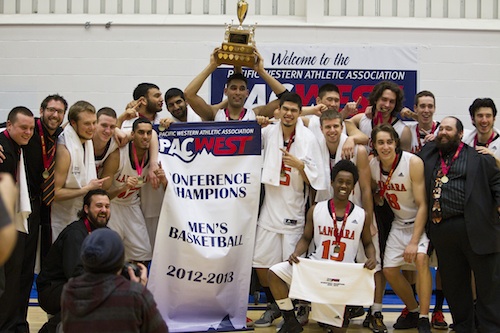 The Falcons men's basketball team celebrate their provincial championship win. Photo: Thorsten Gohl. 

Vancouver, BC – The Langara Falcons men's basketball players head to Quebec today for the national championships, ranked as the top team in Canada.
The Canadian Collegiate Athletic Association (CCAA) tournament is being hosted by John Abbott College in Sainte-Anne-de-Bellevue. The Falcons, after a record-breaking 20-1 season and a gold medal at the Pacific Western Athletic Association (PACWEST) Championships, will face the host team for their first match on Thursday.

They will compete against Sheridan College (Ontario), Red Deer College (Alberta), Champlain College (Quebec), Holland College (PEI), Keyano College (Alberta), host team John Abbott, and local rivals Vancouver Island University for the national title.

To buoy their success on the way to nationals, point guard Brody Grieg was this week announced as a CCAA Player of the Month. The gifted player led the Falcons to their best regular season record of all time, and he leads the PACWEST in assists with an average of 9.29 per game.

The Falcons face John Abbott on Thursday at 8:30 pm EST, 5:30 pm PST.

Learn more.
Annie Mullins
Communications Officer
Communications & Marketing
T 604.323.5058
amullins@langara.bc.ca