Mar 5, 2013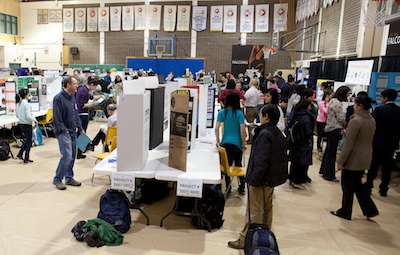 Students get their projects ready for the 2013 Vancouver District Science Fair. Photo: Jennifer Oehler.
Vancouver, BC – Langara hosted over 200 students at the 2013 Vancouver District Science Fair on Friday ­– one of the largest science fairs in Canada. Students from grades seven to 12, representing over 15 schools from the Lower Mainland, showcased more than 130 projects at Langara's Main Campus.

The mission of the fair, organized by Vancouver School Board, is to serve as a connecting point between science industry professionals, science fair alumni, mentors, educators, and students.

"We are proud to partner with the Vancouver School Board for this event. Langara strongly believes in supporting the scientific endeavours of young minds, and this is a great fit for both of us," said Margaret Heldman, Langara's Dean of Science.

The fair is an opportunity for students to work hands-on with science experiments of their choosing. Projects at the 2013 exhibition ranged from creating bacterial cultures from public surfaces to building Tesla coils.

Students exhibited their projects to nearly 100 judges and were treated to a science-based magic show by Langara's Chemistry Department. Faculty from the College's Math and Sciences Division also delivered a variety of engaging presentations on topics such as 3D printing, endangered species, and microcomputers. The students were also asked to create 30-second videos on the spot for a contest.

"The fair is intended to let students have fun with science, and learn something new at the same time," added Heldman. "Langara was able to engage the students with some interesting presentations on relevant subjects."

"Students have really enjoyed this," said teacher Albert Chang, the Fair's 2013 coordinator and former winner of the BIOTECanada‐Biogen Idec Teaching Excellence Award. "They get to participate in activities and to see interesting things. I've received a lot of positive feedback."

The 2013 Grand Award Winners included Ryan Nah from University Hill Secondary with his project "Breeding Super-bugs with Triclosan", and Alison Boudet from Kitsilano Secondary with her project "La Couleur des Graines Influe-t-elle l'alimentation des Moineaux Domestiques". View the full list of winners.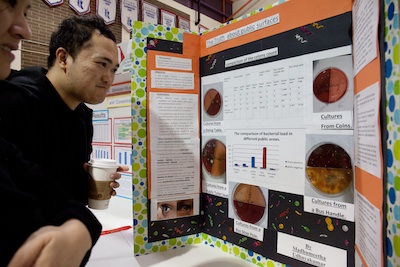 Visitors check out student projects and the 2013 Vancouver District Science Fair. Photo: Jennifer Oehler.
Learn more.
Deborah So
Communications Officer
604.323.5672
dso@langara.bc.ca