Feb 18, 2013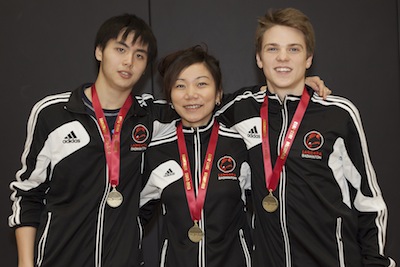 From left: Jason Sun, Ashley Jang, and Matt Downton with their gold medals at this weekend's PACWEST provincial championships. Photo: Thorsten Gohl.


Vancouver, BC
– Langara is pleased to congratulate the Falcons badminton team on their silver finish at the Pacific Western Athletic Association (PACWEST) provincial championships. 
The College's student-athletes fought hard to take second place overall, beating out Kwantlen to take the silver by 16 points. Douglas College finished with the team gold for a record eighth year in a row.
In addition to an outstanding team finish, Langara took home a pair of gold medals and two bronzes in the individual events. Rookie Jason Sun won the men's singles title as well as being named as Player of the Year by the conference. Jason dominated the men's singles rankings for the entire season after winning two PACWEST tournaments, and went undefeated in the provincial competition. He will now head to the
Canadian Collegiate Athletic Association (CCAA)
national championships at Georgian College in Toronto.
Joining Jason in Toronto will be 3
rd
-year Falcon Ashley Jang and 1
st
-year Matt Downton, who took home the gold in the mixed doubles competition.
"We're incredibly proud of the way our team performed at the Badminton Provincials this year," said Clayton Munro, Langara's Dean of Student Services. "The Falcons finished with an impressive silver medal as a team, and with individual gold medals in the Men's Singles and Mixed Doubles events I would say it's been a banner year for badminton at Langara – and the season isn't over yet. I'd like to extend special congratulations to Jason for being named the PACWEST Player of the Year and wish him, as well as Ashley and Matt, all the best of luck at nationals."
As well as being named Player of the Year for badminton by PACWEST, Jason has won the honour of being named as a CCAA Athlete of the Month. He was joined on the podium by Hugh Leung and Shurman Chan, who won the bronze in men's doubles, and Julia Chang, who won the bronze in women's singles. 
The CCAA national badminton championships begin February 28 at Georgian College in Toronto.


Learn more.
Annie Mullins
Communications Officer
Communications & Marketing
T 604.323.5058
amullins@langara.bc.ca