Jan 30, 2013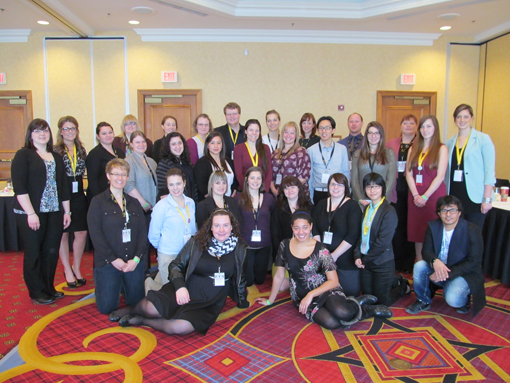 Langara School of Nursing students at the Canadian Nursing Students' Association (CNSA) national conference.

Vancouver, BC – Langara College is pleased to announce that the Langara School of Nursing has been named "School of the Year" at the Canadian Nursing Students' Association (CNSA) national conference. Langara was chosen in recognition of their contribution to the CNSA by hosting the largest CNSA Western/Prairie Regional in history within 10 months of joining the association.
In addition to the honour, student delegates representing the College won their bid to host the 2014 CNSA national conference in Vancouver. Both awards were announced at January's CNSA conference in Halifax, Nova Scotia, where Langara was represented by dedicated nursing students Kefa White and Sandy Gum.
"I am excited to work with my colleagues to bring this amazing conference to Vancouver," said Gum, " and I am honored and privileged to have been elected as the CNSA National Conference Director for 2013-2014."
"I am excited to work with Sandy and the rest of the National Conference Planning Committee to make the 2014 CNSA national conference a success," added White.
The accomplishment follows Langara's hosting of the CNSA Western and Prairie Regional Conference this past October, which was the first time in the symposium's 41-year history it had been hosted in BC.
"I am very proud that our student delegates to the CNSA have brought this conference to Vancouver for 2014, said Janine Lennox, the Chair of Langara's School of Nursing. "The success of the Western and Prairie Regional conference in October brought schools of nursing from across the province together and opened our eyes to this organization and what it offers to our students. This national conference will establish the voice of the CNSA across the country, from Halifax in 2013 to Vancouver in 2014!"
Please view the student's Youtube video that was part of their winning bid submission.
For more information on the Bachelor of Science in Nursing program visit www.langara.bc.ca/nursing.
About Langara
Langara College, located in beautiful Vancouver, BC, Canada, provides University, Career, and Continuing Studies programs and courses to more than 23,000 students annually. The College's expansive academic breadth and depth allow students to choose their own educational path.
Learn more.

Wendy Watson
Communications Officer
Communications & Marketing
604-323-5884
news@langara.bc.ca