Dec 16, 2012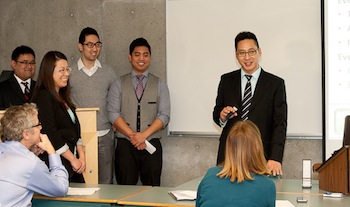 Students Simon Hui, Natalie Wong, Steven Ge, Marco Buktaw, and Brian Pan present their campaign to Bruce Anderson, the Chief Technology Officer of MADD Virgin Drinks, and Stephanie Koonar, instructor. Photo: Jennifer Oehler.
Vancouver, BC – Students in Langara's School of Management (LSM) completed a unique project this term, just in time for the holidays – creating advertising campaigns for a new range of non-alcoholic beverages by MADD Virgin Drinks (MVD).
The partnership saw eight student groups work on integrated, multi-platform advertising plans to promote MVD's new line of "virgin" wine, champagne, and cocktails. The products were launched this year to provide a socially responsible alternative to alcoholic beverages and to raise funds (10% of net sales) for Mother's Against Drunk Driving (MADD) – making the line especially relevant for the upcoming holiday season. Concepts created through the student campaigns were then considered for further development by MVD.
"When it comes to learning the art and science of advertising for the students at the Langara School of Management, there's no substitute for real world experience, so on two levels, we're happy to contribute," said Brian Bolshin, Co-Founder, President & CEO of MADD Virgin Drinks. "We've seen some great thinking from the students, and we're confident as they advance through their education and practical experience, they will develop the skills necessary to thrive in their chosen fields."
All eight groups presented their concepts to Bolshin, who is based in Toronto, via GoToMeeting, and the company's Chief Technology Officer Bruce Anderson attended the presentations in person. The top three teams, as decided by Bolshin and Anderson, came away from the project with cash prizes – $500 for first place, $250 for second, and $100 for third.
"Key to offering a degree or diploma at the Langara School of Management is ensuring that students are given plenty of opportunities to work with real companies in industry," said Stephanie Koonar, instructor and Assistant Chair of the LSM. "We were very pleased to work with the executives of MADD Virgin Drinks, who produce a line of alcohol-free drinks including champagne, wines, and cocktails, as our real life company."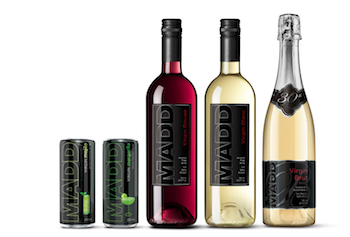 Items from the MADD range of non-alcoholic beverages. Photo: Contributed.
Learn more.

Annie Mullins
Communications Officer
Communications & Marketing
T 604.323.5058
amullins@langara.bc.ca