Dec 6, 2012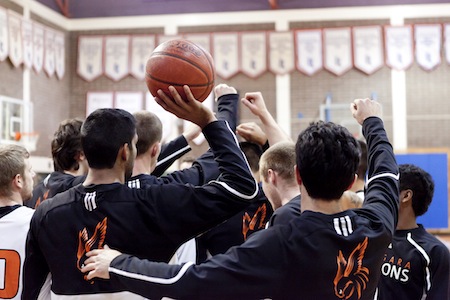 Langara's men's basketball team has won a perfect 8-0 start to the season. Photo: Thorsten Gohl.

Article from The Province
Vancouver, BC – When training camp opened in September for another men's basketball season at Vancouver's Langara College, the group of Falcons who had shown up for their first sessions with the new head coach had a sneaky feeling things might be a little different.
Indeed, veteran bench boss Paul Eberhardt has a reputation for up-tempo basketball, and the former 10-year head coach at North Vancouver's Capilano University, after a brief hiatus in which he focused solely on his high school coaching career, was now back in the Pacific Western Athletic Association (PACWEST) ready to have some fun.
But first, there was a matter of getting in shape to play the way Eberhardt wanted them to play.
"We didn't take out basketballs for the first three or four days," the coach said. "It was like training camp from hell. All conditioning. No smiles. But they knew they had to be fit to do this, and they all bought in."
Now, at the league's winter break, that buy in has paid some handsome dividends.
Langara, which has basically added only one new player with past college experience — Trinity Western transfer forward Jesse Jeffers — has bolted out to an 8-0 start and owns the No. 1 spot in the Canadian Collegiate Athletic Association's national rankings.
And although there is plenty of talent on the roster, it's the unique and even comical team dictums which Eberhardt has sold his players on which makes this story of selfless success so enjoyable to hear.
"I have had deep groups before but nothing quite like this," says Eberhardt, 48, and a head coach at the college and prep levels for the past 30 seasons. "The challenge here is to get the players to buy in, and if you look at the league stats leaders, with the exception of assists, we don't have anyone in the top 10. At one time during the season, we had five guys in the top 10 for assists. I've talked about this with our team, and our goal, other than assists, is to not have anyone in the top 10."
And that's because they are truly committed to sharing success.
Starting point guard Brody Greig, a Richmond-McMath product and the league's assists leader (7.1 apg), is the team's point guard, and a guy Eberhardt says "is custom built to run this system because he loves to fast break and pass the ball."
Fellow Richmond native Elliott Mason (J.N. Burnett), a 6-foot-6 shooting guard, is the team's scoring leader. And the ultra-athletic Jeffers (North Van-Argyle), a player who can intimidate through the sheer majesty of his dunking, mans the power forward spot.
Matt Madewan, a three-point specialist, and Ranjodh Hare, a selfless rebounder, are two other parts of the mix. Each played under Eberhardt at R.C. Palmer, the Richmond high school Eberhardt led to the 2011 B.C. Triple A title and continues to coach at. Others include forwards Garrett Ling-Lee (Vancouver College), Devin McMurtry (Surrey-Fraser Heights) and Jitinder Lohcham (Vancouver-David Thompson), and guards Daniel Hobden (Duncan-Cowichan) and Jeff Chu (Richmond-RA McMath).
The success of the team has resonated on campus, and the fact that the Falcons play in one of the smallest gyms you're apt to see at any level of the game has only added to the ambiance.
"It's a small place," agrees Eberhardt of the tradition-laden barn where current UBC head coach Kevin Hanson guided Langara to five provincial and two CCAA national titles during a nine-year run which ended when he joined the Thunderbirds in 2000.
"We call it The Dungeon on 49th. You can have 50 people in there and it seems full. Last Friday (in a 94-63 win over Capilano), there were no seats left. It was standing room only. It's such a neat environment.
"Our league doesn't get a lot of attention," continues Eberhardt, whose team gets back to league play Jan. 4 by hosting Douglas. "Hopefully we can keep building that up and get a nice fan base, because we really are an unbelievably entertaining team to watch."
By Howard Tsumara
Learn more.
Annie Mullins
Communications Officer
Communications & Marketing
T 604.323.5058
amullins@langara.bc.ca