Nov 29, 2012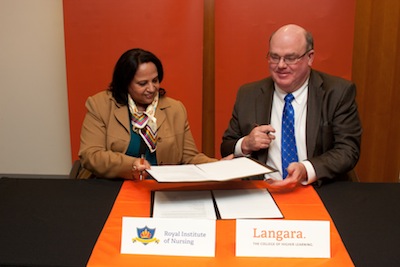 Roy Daykin, Langara's Vice-Presiden for Administration and Finance, signs the agreement with Kawal Kahlon, Chairperson for India's Global Education & Charitable Trust. Photos: Jennifer Oehler.
Vancouver, BC – Langara College is pleased to announce the signing of an agreement with India's Global Education and Charitable Trust (GECT), a non-profit organization established to provide accessible and affordable education to young men and women in rural Punjab and to promote the nursing profession. To facilitate this learning experience, GECT established the Royal Institute of Nursing (RIN) in 2007. RIN is considered one of the country's leading nursing institutions.
The agreement provides the opportunity for Langara Nursing students to gain valuable practical clinical experience at RIN. Additionally, Langara students will have considerable opportunity to interact and collaborate with RIN students.
"This new agreement offers a wonderful opportunity for our students to enhance their nursing knowledge in an international context," says Bradley O'Hara, Langara College Vice-President, Academic and Provost. "In working with the Royal Institute of Nursing, we are opening doors and setting the stage for global opportunities for our students, graduates, and the Langara community."
"We are very excited and honoured to host students from the Langara School of Nursing at the Royal Institute of Nursing in Punjab, India," said Kawal Kahlon, Chairperson, Global Education & Charitable Trust. "The Institute was originally created to make an international-level nursing education accessible to youth in rural Punjab. Now we are providing international practical experience to Canadian students. This marks a unique partnership that will benefit students from both countries for years to come."
Under the terms of the agreement, Langara nursing students in their eighth term who have demonstrated a high level of performance may apply for this clinical placement. Students will be chosen based on their application letter and an interview with the School of Nursing Faculty. The international clinical experience will be five weeks in length, and upon their return to Canada, students will be expected to give a presentation to the School of Nursing about their unique experiences.
The partnership agreement supports several aspects of Langara's strategic plan, including developing and diversifying opportunities for learners and enhancing the College's international reputation and extends a tradition of cooperative agreements that the campus has entered with institutions outside of Canada.
About Langara College
Located in beautiful Vancouver, BC, Canada, Langara College provides University, Career, and Continuing Studies programs and courses to more than 23,000 students annually. The College's expansive academic breadth and depth allows students to choose their own educational path.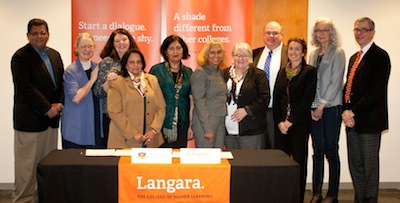 Langara with the team from GECT at the signing.
Learn more.
Wendy Watson
Communications Officer
Communications & Marketing
T 604.323.5884
wwatson@langara.bc.ca