Nov 27, 2012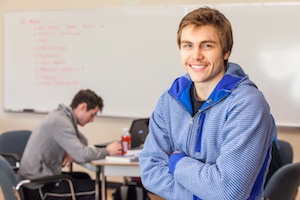 Giants' centre forward Riley Kieser, the team's Academic Athlete of the Month. 
Vancouver, BC
–Players from the Vancouver Giants hockey organization have finished their first term studying through an educational partnership with Langara.
The 12 students, who range from 18 to 20 years old, met twice a week with instructor Julia Denholm who also guided them through an online course of study. During their first term with the College the athletes studied Communications 1118 which focuses on writing with an emphasis on business.
Among the pupils was centre forward Riley Kieser, who was named as the Giants' "Academic Athlete of the Month" for November.  The 18-year-old, who wears number 15, was recognized for his academic leadership after helping his teammates to stay on top of their studies. Ryan, who hopes to study engineering in the future, is originally from Sherwood Park in Alberta and is in his second season with the Giants.
"We want to stick with Langara," said Giants' Education Advisor Steve Fera, who attends the in-class session with his team. "The boys are learning, and Julia has been so great – she is very supportive."  
Denholm, who volunteers her time to travel to Delta and teach the team in-person every two weeks, said the students were "doing well" despite the high demands of travel and training put upon them.  
About Langara College
Located in beautiful Vancouver, BC, Canada, Langara College provides University, Career, and Continuing Studies programs and courses to more than 23,000 students annually. The College's expansive academic breadth and depth allows students to choose their own educational path.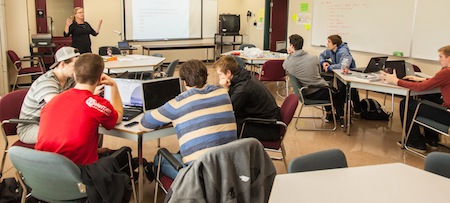 Instructor Julia Denholm with her Giants class.
Learn more.
Annie Mullins

Communications Officer
Communications & Marketing
T 604.323.5058
amullins@langara.bc.ca