Nov 5, 2012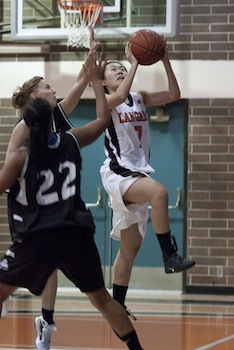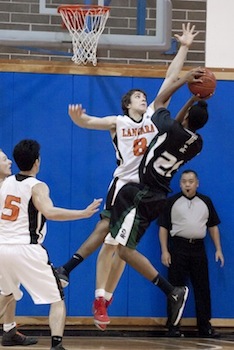 Left: Guard Toni Li (7) sneaks through the Douglas defence for a layup.
Right: Center Devin McMurty (8) shuts down a Douglas player with a huge block.
Photos by Thorsten Gohl.

To see more photos of the men's and women's games, visit our Flickr channel.

Vancouver, BC
 –The Falcons men's and women's basketball teams opened up their 2012/2013 season with a pair of resounding victories on Friday, against the Douglas College Royals.
The Langara women got the ball rolling at 6:00 pm with point guard and captain Jessica Eng (10) setting up her teammates with assist after assist. Guards Hailey Hebron (4) and Denise Busayong (5) gave standout performances, shutting down the Royals' offence with their speed and determination. Their efforts were matched by forwards Jolissa Crossley (12) and Charlotte Lau (11) who continuously drove through the opposition's defence to make basket after basket. The final result saw the Falcons fly to a decisive 60 to 46 victory.
By the time the men tipped off at 8:00 pm the stands were packed with excited supporters – including one student who painted himself orange for the match. The Falcons got off to a dominant start, hitting five three-pointers in the opening quarter, including four in a row from guard Daniel Hobden (10). They excelled defensively, shutting down any momentum gained by Douglas and taking a commanding 50 to 21 lead by halftime.
"We held Douglas to 20 percent shooting in the first half and we shot well above 50 percent to build up a huge lead," said head coach Paul Eberhardt. "We also dominated the boards, which helped us establish our running game."
Leading the way for Langara was forward Garrett Ling-Lee (7), who finished the game with a commendable 20 points and six rebounds. Also with a strong inside game was center Devin McMurtry (8) who had a "double-double" with 13 points and 10 rebounds. Guard Elliott Mason (14) chipped in with 16 points and 5 boards while Hobden was 4 for 6 from the three-point line for 13 points. The final score was 93 to 61 for the Falcons. "It was a great overall team performance tonight," said Eberhardt. "I was especially impressed with how all of our forwards dominated the paint."
The Canadian Collegiate Athletic Association (CCAA) today ranked the Langara Falcons men's basketball team fourth overall nationally.
The next action for the Falcons will be two home games against the Vancouver Island schools as they play Camosun on Friday November 9 (6:00 pm women, 8:00 pm men) and then VIU on Saturday November 10 (1:00 pm women, 3:00pm men).
Learn more.
Annie Mullins
Communications Officer
Communications and Marketing, Langara College
604.323.5058 | amullins@langara.bc.ca