Oct 10, 2012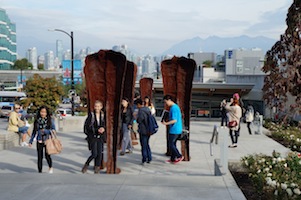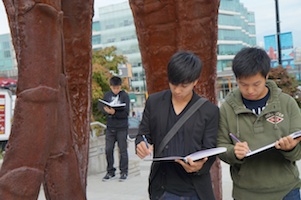 Left and right: Students visit "Walking Figures" by Magdalena Abakanowicz near Vancouver's City Hall. Photos: Teresa Lu.
Vancouver, BC – The first ever public art walk hosted by Langara's Department of Fine Arts has been hailed as a success, after more than 70 high school students from the Lower Mainland turned out to participate.
The project, led by students in the College's Public Art course, of prominent public art pieces along the route of the Canada Line. The eight-stop excursion included visits to Magdalena Abakanowicz's well-known piece "Walking Figures" near the Broadway/City Hall Station, and "G7" by Preeti Smith at the King Edward Station. The students also visited "Tread Lightly" at the Langara/49th Ave Station – a piece of sculpture created by Langara's own Public Art students. The event culminated in a hands-on session back at the College campus where participants created their own unique pieces.
"I'm thrilled about the success of this event," said Heather Burgess, the project's facilitator. "The students were really engaged and curious about the different public art projects in the community, and the hands-on art-making was a hit." 
The tour guides researched each of the installations along the tour and facilitated discussions with the participants about public art in the community. 
"As a teacher, I'm really appreciative of the opportunity," said Lord Byng's Art Instructor Jon Hartley-Folz. 
Special thanks to the following supporters who made this event possible:
Langara Innovation Fund
Langara College faculty and staff, especially Luke Blackstone, Tomo Tanaka, and Katie Eliot
Langara College's Public Art class
InTransit BC's Canada Line Public Art Program Director Janice Fairley
Lord Byng & Point Grey Secondary
Langara SWAP students and VOLT volunteers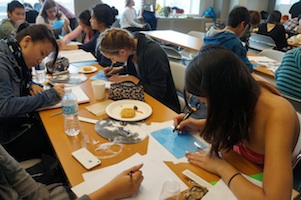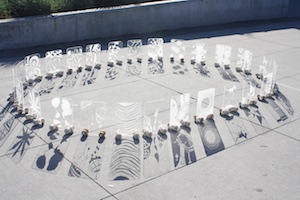 Right: Students work on creating their own art as part of the event. Photo: Teresa Lu. 
Left: The completed art piece by students. Photo: Luke Blackstone.
 
Learn more.
Sylvia Tan
Communications Officer
Communications & Marketing Services
T 604 323 5961
F 604 323 5680
stan@langara.bc.ca