Sep 18, 2012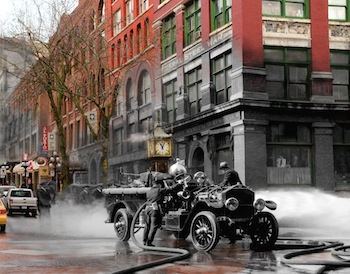 An image from the "Merging Time" exhibit. Photo credit: Dion Farrell & City of Vancouver Archives, CVA# 99-2452
Vancouver, BC – A collection of photo-illustrations created by Langara students is "Merging Time" at the Vancouver Archives, by fusing pictures of old Vancouver with modern images of the city.
To create the stunning work, students from Langara's Professional Photo-Imaging Program (class of 2013) selected images of iconic Vancouver landmarks from the City of Vancouver Archives and revisited their locations to capture how they look today. The pictures were then artfully blended together using photo-imaging software.
The collection, titled "Merging Time: A Modern Perspective", opens at the City of Vancouver Archives on September 27 with an evening reception from 7:00 pm to 9:00 pm.  
"Using skill and imagination, the members of Langara College's Professional Photo-Imaging Class have synthesized historic and contemporary photographs, giving us a unique and often surprising vision of Vancouver's past and present," said Leslie Mobbs, director of the City Archives. "The City of Vancouver Archives is honoured to exhibit their work."  
The students intend for the exhibition to show a Vancouver is both familiar and not familiar. Visitors will have a chance to see how the city has changed over time, and contemplate how it will continue to do so. The exhibit runs until the December holiday season.
The City of Vancouver Archives is at 1150 Chestnut Street. For more information on the exhibit visit the
"Merging Time" Facebook page
.
Learn more.
Annie Mullins
Communications Officer
Communications & Marketing Services
T 604 323 5058
F 604 323 5680
amullins@langara.bc.ca