Sep 6, 2012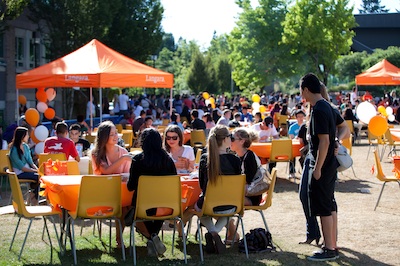 Students enjoy the orientation barbeque on Thursday. Photos: Jen Oehler.

Vancouver, BC – More than 1,100 new students joined faculty and staff at Langara last week for the College's largest ever student orientation program.
 
Over the course of two days participating students toured campus, picked up their books, explored Langara's student services, competed for a host of prizes, and mixed and mingled through a variety of activities. Nearly a hundred returning student volunteers made the event possible, filling a variety of roles from registration and guiding orienteers around campus to sitting on information panels. The event was spread over Wednesday and Thursday, with each day ending in a barbeque party to welcome new students to campus.  

Langara also ran its biggest ever parent orientation night this year. More than 300 parents arrived on campus to learn about the College on Tuesday night through a variety of presentations, videos, and activities.

"We're incredibly pleased with the feedback from orientation this year," said Reba Noel, Langara's Student Engagement Officer. "Our returning students did an incredible job creating a positive, welcoming environment, and our new students had a great experience learning about their new College." 

Student Georgia Williams, who is beginning her first year of Langara's Fine Arts Program, picked up a free three-credit course as a prize during orientation. "Orientation was great for meeting new people and gave me so much energy to start the school year," she said.

To see more pictures of orientation visit our album on Flickr.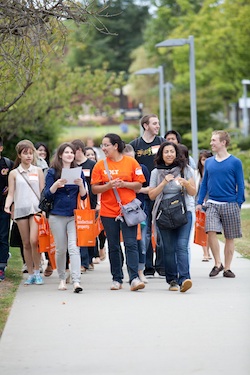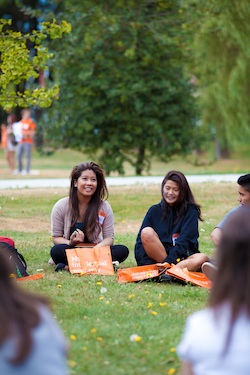 Left: New students tour the Langara campus with a VOLT student volunteer.
Right: Students getting to know their new classmates during orientation.

Learn more.
Annie Mullins
Communications Officer
Communications & Marketing Services
T 604 323 5058
F 604 323 5680
amullins@langara.bc.ca