Sep 5, 2012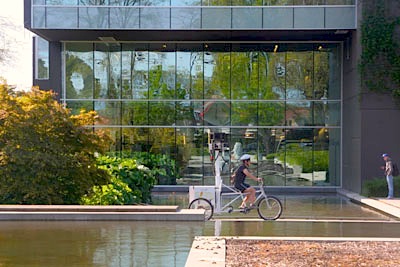 The Google tricycle passes in front of Langara's library building. Photos: Jennifer Oehler


Vancouver, BC
– New students coming to Langara this fall will be treated to a different sort of campus tour, as "Street View" documentation of the College grounds goes live on Google Maps on September 6.
In May this year the College was visited by two Google vehicles mounted with state-of-the-art image capturing equipment that toured the main Langara campus at 100 West 49th Avenue in Vancouver. The camera system recorded 360-degree, street-level photographic imagery from roads and paths. While a Google car toured the streets surrounding the College a specially constructed "trike" weaved between buildings to photograph the campus from a walker's point of view.
The images will go live on September 6 as part of Google's elaborate Street View project, which is currently adding College and University campuses from around the globe. Langara is one of the first campuses in Western Canada to be added to Street View.
On their official blog, Google said the project will enable prospective students to tour campuses online without the need for a physical visit: "Whether you're a current student trying to familiarize yourself with campus, an applicant assessing your options or an alumnus feeling nostalgic, the Street View feature in Google Maps can be your tour guide without the backward walking."
"The Langara community is very excited about becoming part of the Street View project," said Ian Humphreys, Langara's Acting Associate Vice-President of Student Development and Marketing. "This map provides an innovative tool for new and prospective students to explore the Langara campus, as well as for the families and friends of our students to have a look at the College if they can't make it to campus for a visit."
Langara now joins a list of some of the world's leading colleges and universities as one of the nearly 100 campuses that have been mapped by Google. The list of partners currently involved in the project includes the University of Bath in England, Osaka University in Japan, Stanford University in the United States, Universita Degli Studi Di Milano in Italy, and Durham College of Applied Arts and Tech in Ontario.
The Google Street View project was first launched in May 2007, in several cities in the United States, and has since expanded to include cities and rural areas worldwide. All faces and license plates captured during the process of photomapping an area are blurred out in production.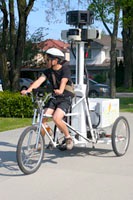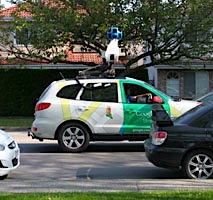 Left: The Google tricycle arrives on campus.
Right: The Google car takes in West 49th Avenue north of campus.


View Larger Map
Learn more.
Annie Mullins
Communications Officer
Communications & Marketing Services
T 604 323 5058
amullins@langara.bc.ca