May 28, 2012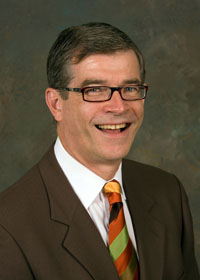 Dr. Bradley O'Hara joins Langara as the new Vice-President, Academic and Provost.

Vancouver, BC
– Langara College has announced the appointment of Dr. Bradley O'Hara as its new Vice-President, Academic and Provost. In this position, Dr. O'Hara will be responsible for providing academic leadership for the College.
"I am pleased to welcome Dr. O'Hara to Langara," said College President Dr. David Ross. "In addition to being a well-respected published author, international lecturer, and presenter, he is a skilled administrator with over 20 years of experience. Dr. O'Hara's enthusiasm and demonstrated academic leadership skills will provide continued momentum to Langara's pursuit of innovative and responsive academic programming."
Dr. O'Hara currently serves as the Provost and Vice-President for Academic and Student Affairs in the University of Louisiana System (UL System) – one of the largest public systems of higher education in the United States. Prior to that he provided leadership as the Vice-President of Student and Public Affairs at Southern Louisiana University (Hammond, Louisiana). His post will be effective at Langara from August 15, 2012.
"I am very excited," said Dr. O'Hara. "For me this is a double blessing. Firstly, Langara is a great school – I see a lot of growth opportunities. The College reminds me of Southeastern Louisiana University, where I began my academic career. In the 90's, it was one of the fastest growing institutions in the US. Secondly, it has always been my dream to move back to Canada – specifically to the West Coast. I can't wait to get started," said O'Hara.  
Originally from Ontario, Dr. O'Hara holds a PhD in Marketing from Louisiana State University (Baton Rouge, Louisiana) as well as a Masters of Business Administration and a Bachelor of Commerce from the University of Windsor (Windsor, Ontario). He is a two-time winner of the Southeastern Louisiana University President's Award, which he received in 1995 for Excellence in Research and in 1999 for Excellence in Teaching.  
About Langara
Langara College, located in beautiful Vancouver, BC, Canada, provides University Transfer, Career, and Continuing Studies programs and courses to more than 23,000 students annually. The College's expansive academic breadth and depth allows students to choose their own educational path. The College offers four bachelor's degrees as well as a comprehensive variety of diplomas, certificates, and citations.
Learn more.
Yvonne Ohara
Manager, Communications and Marketing Services
Langara College
604-323-5671
news@langara.bc.ca